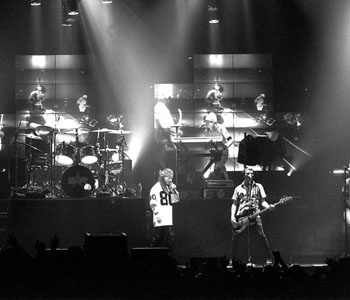 Where's Axl? is the question audiences everywhere are asking.

Axl to Grind

Guns N' Roses stands up San Jose--and you're surprised?

By Michael Alan Goldberg

SO, THERE WE WERE, me and several thousand Guns N' Roses fans, all lined up outside GM Place in Vancouver, B.C., waiting for the doors to open on the opening night of the North American tour. It was 1989 all over again--rowdy heshers swilling paper-bagged beers, throwing devil horns in the air and joining in whenever someone would start bellowing the chorus to "Paradise City."

The time warp seemed complete when a limo pulled up to the curb and out stumbled five Guns N' Roses impersonators, all looking like they'd come straight from the photo shoot for the Appetite for Destruction album cover. A massive roar erupted as they stood on the sidewalk with their hands in the air. But it was kind of sad, really, because at that moment you could feel the crowd snap back to the present, to this November night in 2002.

As the cheers died down, and the five costumed fans headed to the back of the line, you could see it in practically everyone's face--the wistful understanding that though they'd waited a decade to see G N' R, this quintet of impersonators was the closest they would get to the cherished band they remember, to the band that once kicked pop-metal's ass with real heart and killer songs--bluesy hard-rock anthems that thundered with grit and urgency and aggression.

Instead, we were all settling for the Nutrasweet version of Guns N' Roses (an acceptable substitute while it's going down, though it leaves a strange aftertaste and a craving for the real thing behind): no Slash and company, but rather a completely retooled seven-man lineup featuring offbeat guitarist Buckethead and former members of Nine Inch Nails, the Replacements, Primus and Love Spit Love. We were there in Vancouver for all the reasons some of you wanted to see them, too--because you want to hear those killer songs live, because you want to hear new songs from the forever-delayed Chinese Democracy album, because you're curious to see a big rock spectacle. And because a tiny little part of you is hoping that G N' R will launch the Biggest Musical Comeback of a Lifetime.

But as it was about to turn out, we were never going to get that chance. The startling announcement came, and the first shout of "Fuck you, Axl!" rose from the front of the line. The impersonators trickled back our way, looks of exasperation and disbelief in their eyes. I decided to head over to the box office to see if I could get the official word on the cancellation, and that's when it started to get sketchy. To my left, an enraged group of fans were ripping poles from a blue tarp and throwing them at the building. Several yards away, another mob grabbed a metal barricade and steered it toward a set of locked glass doors. Retreating to the mouth of the SkyTrain station just across the street, I watched, along with thousands of others, as the rampaging rioters took to the arena with anything they could get their hands on.

"We were in the building, and Axl was en route," sighs Guns bassist Tommy Stinson. "And there was no reason to cancel the show. On CNN the next day, the way they put their slant on it--you can do a major press junket and tell your side of the story but [CNN] already put it out there, like, 'Axl's to blame; we're to blame.' You just can't get out of that. You don't get a second chance to change public opinion. But all we can do now is show up, play our shows and have a good time in spite of that--and, hopefully, people will get past it."

That strategy might have worked, but one day after the band's triumphant sold-out appearance at Madison Square Garden in New York City, the band was a no-show at the first of two scheduled gigs in Philly--because Axl was allegedly ill. The announcement, in front of a nearly packed First Union Center crowd waiting 90 minutes for the band to hit the stage, sparked a disturbance that resulted in damage and minor injuries, leading to the cancellation of the second show.

On Monday, it was announced the remainder of the entire tour, including the planned New Year's Eve show at HP Pavilion in San Jose, had been scrapped. Should auld acquaintance be forgot, and never brought to mind? Sadly, for most Guns N' Roses fans today, the answer is probably yes.
---
Send a letter to the editor about this story to letters@metronews.com.
---
[ Silicon Valley | Metroactive Home | Archives ]