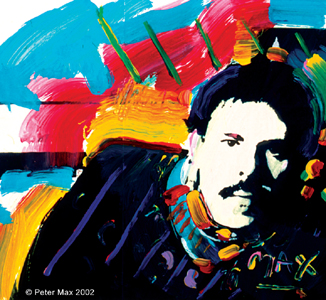 Maximum Exposure: A self-portrait by Peter Max

The Peter Principle

Sixties graphic icon Peter Max opens a new gallery in San Jose

By Michael S. Gant

IN AN ERA when even the most modest of public-art projects spark acrid flames of controversy (been to see the Fallon Statue in San Jose lately?), it's somewhat surprising that the man who most epitomized the psychedelic imagery of the contentious 1960s has become the closest thing we have to a national artist. Peter Max's bright, kaleidoscopic posters and Art Nouveau-like graphic designs (the inspiration for the animation in Yellow Submarine) still evoke the trippy days of the Summer of Love.

The firm identification of Max's distinctive style with a time and sensibility thoroughly denounced in the culture wars might have relegated the artist to the niche status of psychedelic poster artists like Stanley Mouse, Victor Moscoso and Rick Griffin. Instead, Max has continued to flourish, working in a bewildering array of media--everything from prints to race cars to stamps to the flanks of jetliners. This weekend, he appears in San Jose to celebrate the opening of a gallery dedicated to his work at Santana Row.

Post-9/11, Max's bright, hopeful images of such sturdy American verities as the flag and the Statue of Liberty (a favorite subject of the artist for more than 20 years) have taken on new resonance. They speak directly to a kind of ur-patriotism that might seem jingoistic if it weren't for Max's own history of involvement with environmental and spiritual causes (one of Max's more memorable pieces is a portrait of Swami Satchidananda from 1972, his beard of fuchsia spreading into a cosmic background of floating, galaxylike globules).

Instead, Max's Sept. 11 posters (a series of six designed to benefit the Twin Towers Fund) evince a kind of joyous resilience in the face of tragedy. When looking at his recent poster of the Statue of Liberty triumphant in front of a draped American flag--an image that conjures up the ambiguity of the famous shot of George C. Scott from Patton--It helps to remember that Max designed the 25th anniversary Earth Day poster, using the image of dawn breaking to embrace hopes for a better future.

It is the kind of inclusionary vision that gets an artist photographed with everyone from Presidents Carter and Bush (the first) to Gorbachev and Giuliani. With an appeal that ignores political divisions, Max has been commissioned to create everything from the 1984 World Cup USA poster to the stage backdrop for the 1999 Woodstock Music and Peace Festival. Now in his mid-60s, Max continues to experiment with new techniques and media. According to director Mykel Hibbard, the Art of Peter Max Gallery will showcase "all original works." This should give viewers a chance to catch up to some of the artist's newer acrylics on canvas, which rely on broad spontaneous brush strokes and simple, striking color fields in the manner of Matisse and the Fauvists. "There will be about 125 pieces on display," Hibbard says, including several sculptures. The gallery is the culmination of nearly a decade's worth of connection to the valley, which Max visited in 1994 when he was working on the World Cup poster. In the late '90s, a large selection of his works was displayed at the Virtual Gallery in Los Gatos. This is the first gallery devoted to Max's originals, and Hibbard promises that visitors "will be blown away. We spent $300,000 doing the interior, which is very New York."
---
Peter Max will appear Friday-Saturday (Dec. 13-14), 6-9pm, and Sunday (Dec. 15), 1-3pm, at The Art of Peter Max Gallery, 334 Santana Row, Suite 1035, San Jose. An RSVP is necessary; call 408.615.1590. He will also do a booksigning at Borders on Santana Row, Friday at 5pm and Saturday at 2pm. (www.petermax.com)
---
---
Send a letter to the editor about this story to letters@metronews.com.
---
[ Silicon Valley | Metroactive Home | Archives ]