Despite their festive titles, neither the San José Repertory Theatre's Holiday nor TheatreWorks' Holiday Memories brims with standard-issue Yuletide cheer. Instead, both productions take incisive looks at families most people would spend the holidays with only out of a sense of duty.
It's doubtful that anyone but the status-conscious would want to sit down to turkey with the hyperwealthy, stultifying Setons of Holiday, and while Holiday Memories is buoyed by Southern charm, author Truman Capote keeps reminding the audience that he's showing us some of the happier moments in an overall sad life.
In adapting two of Capote's stories--"The Thanksgiving Visitor" and "A Christmas Memory"--for the stage, Russell Vandenbroucke lets the author's strong narrative voice and vivid prose come through with minimal embellishment. Both stories center around Capote's early childhood, when his less-than-attentive parents left him in the care of four elderly, unmarried cousins, including the childlike Miss Sook Falk, the boy's best and only friend.
Holiday Memories focuses on this friendship, with Mark Phillips playing young "Buddy," Sook's nickname for Capote, and Jack Davis as the adult "Tru," wistfully remarking on the ghosts of his Christmases past. These two incarnations of Capote share the stage for the bulk of the show, and although the older version sometimes acts too paternal toward his former self, Phillips' and Davis' performances complement each other without overlapping.
As Sook, Linda Hoy finds the right balance between her character's childlike and adult qualities. Sook still greets Christmas morning with wide-eyed wonder and breaks into giggles when she says "Lake Titicaca," but she's mature enough to show her young friend the error of his ways when he tries to exact revenge on bully Odd Henderson (George Castillo). In Hoy's hands, Sook comes across as the kind of friend every kids wants but few find.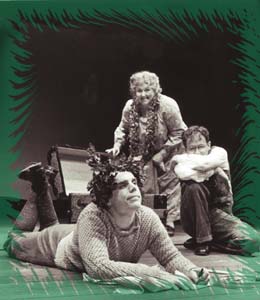 Looking Backward: Truman (Jack Davis, right) remembers his childhood self (Mark Phillips) and favorite aunt (Linda Hot) in TheatreWorks' "Holiday Memories."
Photo by David Allen
Love and Money
While the TheatreWorks cast has to meet the challenge of portraying real people, at least one of the San José Repertory's cast members has to overcome another kind of specter. The role of Linda Seton is strongly tied to Katharine Hepburn, who played the lead in the movie version of Holiday. Julie Eccles' mannerisms and speech patterns echo Hepburn's without mimicking them; she displays her own brand of fiery intelligence and caustic wit.
Both these qualities serve Linda well when she finds herself falling in love with Johnny Case (Michael Medico), her sister Julia's (Celia Shuman) fiancé. With the help of brother Ned (John McCluggage), Linda comes to realize that she has more to offer Johnny than does her conventionally pretty but wading pool-shallow sister.
Ostensibly a romantic comedy, Holiday has its fair share of misunderstandings, miscommunications and missed opportunities. But the humor in playwright Philip Barry's script is tempered with some razor-sharp insights into those who place the quest for the almighty dollar ahead of everything else. For the Rep's production, director Albert Takazauckas has focused more on the play's dramatic aspects, and some potential laughs are lost through inaudible dialogue. What emerges is a well-drawn, if somewhat bleak, portrait of a troubled but loving family.
The show's acoustical problems are due in part to John Wilson's open set designs, which nicely convey the vast emptiness of the Seton's mansion but also allow sound to get sucked up into the Montgomery Theater's fly space. Despite the vacuum they create, Wilson's sets, coupled with Derek Duarte's lighting designs, give as much to the eye as they take from the ear.
For TheatreWork's Holiday Memories, set designer Joe Ragey and lighting designer Steven B. Mannshardt are equally successful in creating an appropriate atmosphere. Mannshardt deserves special commendation for an on-stage sunset that's as beautiful as any natural one.
And both TheatreWorks and the Rep should be commended for choosing holiday productions that strike universal emotional chords without tugging overtly on the heartstrings. Audiences may not leave either show with a greater sense of goodwill toward the men and women in their lives, but they'll probably be better prepared to face the holidays with their own families.
---
Holiday plays Tuesday-Friday at 8pm, Saturday at 4:30pm and 8:30pm, Sunday at 2 and 7pm, Monday (Dec. 23) at 8pm and Thursday (Dec. 26) at noon, through Dec. 29 at the Montgomery Theater, San Carlos and Market streets, San Jose. No performances on Dec. 24-25. Tickets are $16-$30. (408/291-2255)

Holiday Memories plays Thursday-Saturday at 8pm, Saturday (Dec. 14) at 2pm, Tuesday (Dec. 17) at 7:30pm, Wednesday (Dec. 18) at 8pm, Sunday (Dec. 15, 22 and 29) at 7pm and Sunday (Jan. 5) at 2pm, through Jan. 5 at the Lucie Stern Theater, 1305 Middlefield Road, Palo Alto. No performances Dec. 24-25, 31 and Jan. 1. Tickets are $16-$28. (415/903-6000)

---
[ Metro | Metroactive | Archives ]