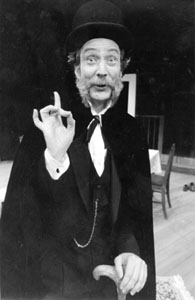 The Ultra-Scrooge: Gruffin Tackleton (Don Reeves Hiatt) relishes his role as a taskmaster in 'The Cricket on the Hearth.'





Dickens and Beyond

SJ Stage Company and Teatro Visión take different approaches to the holiday season

By Heather Zimmerman

TWO LOCAL THEATER companies take us home for the holidays, into the lives of families in (mostly) comic turmoil. What could be more holiday-spirited than that? Families yuk it up in two very different December offerings. Blah, humbug. Turns out there's a reason A Christmas Carol is such a beloved old chestnut when it comes to holiday tales--it has, comparatively, withstood the test of time. Charles Dickens wrote numerous Yuletide stories, but surprisingly (at least to modern readers), none was as popular in its day as The Cricket on the Hearth, presented by the San Jose Stage Company in an adaptation by Buck Busfield.

The nobly suffering Cratchits have nothing on Cricket's poor wretches: kindly toy maker Caleb (Frank Widman) and his blind daughter, Bertha (Mackenzie Fegan). Attempting to buoy her spirits, Caleb dupes Bertha into believing that, far from being impoverished, they are kept in splendor by a benefactor, the toy merchant Mr. Tackleton (Don Reeves Hiatt). In truth, the misanthropic Tackleton gives Scrooge a run for his money as the meanest of taskmasters. Meanwhile, Tackleton stirs up marital strife between the parcel carrier John Peerybingle (Kevin Blackton) and his young wife, Dot (Julianne Somers).

From manufactured troubles--and solutions--to some real antique stereotypes, this creaky Christmas yarn shows its age. An ode to the cherished Victorian ideal of perfect domestic bliss, Cricket seems--more than anything--a neatly preserved time capsule. Strange then, that the unrepentant Tackleton is the best character, wittily played with mustache-twirling relish by Hiatt. The other roles don't offer enough meat to sustain Tiny Tim, and perhaps that's why, though brightly acted and cheerfully staged, this production lacks much of the heart and insight that have become San Jose Stage Company hallmarks. Though the company deserves credit for choosing a rarely seen Dickens tale, unfortunately Cricket isn't Dickens' best work by a long shot.

Rum and Coca-Cola

Teatro Visión forgoes a holiday-themed show altogether with a darkish comedy set on the Puerto Rican island of Vieques in 1950. Though with its themes of family togetherness, Jorge González's Vieques suits the holidays well enough, at its core is a timely issue: the occupation of the island by the U.S. military. Amid daily U.S. weapons tests, cultures in 1950s Vieques mix like oil and water, with too much rum easing some of the locals' pain and fueling their anger.

Don Julio (David Termenal), apparently reconciled to the "gringo" presence, urges his family to "get used to it," with varying degrees of success. The gringos, after all, have the money and, therefore, the power. His nephew, Iván (Jacob Vega/Canote), rejects Julio's views, while his daughter, Silvia (Brenda Lamberty Segarra), discreetly dates a U.S. sailor. A baseball game meant to improve relations between the islanders and the sailors brings bad feelings to a boil.

Cricket Caleb may have kept his family in denial, but Vieques shows us an entire community generally resigned to reality. Despite their wrangling with poverty and, in some cases, alcoholism, González finds warmth and humor in his characters' everyday interactions and pulls it all together in a surprisingly effective bittersweet yet slapstick finale. Director Wilma Bonet elicits some nuanced performances from this ensemble cast. Iris Diaz, in particular, hits the mark as the oft-exasperated matriarch Lola, who has a way of keeping her brood together, proving that family feeling is more than a seasonal theme.
---
The Cricket on the Hearth plays Wednesday-Saturday at 8pm, Sunday at 2pm, through Dec. 23 at the San Jose Stage Company, 490 S. First St, San Jose. Tickets are $16-$26. (408.283.7142). Vieques plays Thursday-Saturday at 8pm, Sunday at 2pm, through Dec. 16 at the Mexican Heritage Plaza, 1700 Alum Rock Rd., San Jose. Tickets are $12-$17. (800.MHC.VIVA)
---
[ Silicon Valley | Metroactive Home | Archives ]