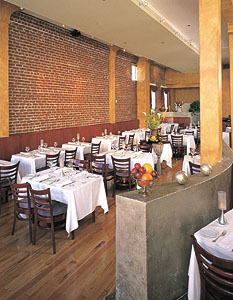 Waiting for Gourmet: Empty tables at Agenda set the stage for a talented kitchen.





What's on the Agenda

A supper-club atmosphere and well-focused menu bode well for this downtown restaurant's ulterior motives

By Christina Waters

AGENDA CHEF Steven Long has settled into a fine winter's menu at his lovely kitchen housed in a downtown landmark. The turn-of-the-century establishment offers diners some vintage urban ambience, from broad walls of art-filled brick lined with a gleaming banquette to polished hardwood floors and soft white linens. It looks smart while living up to its other agenda as a thriving dance club and entertainment venue.

On a chilly evening last week, our own agenda centered on a downtown dinner and all the trimmings. The need for something wet and red was answered by two excellent zinfandels from Agenda's trusty wine list. A luscious Sobon Estate "Rocky Top" 1998 ($7.25) confirmed my long-standing love affair with this vineyard's amazing output. My dinner guest Amber's zinfandel, Kempton Clark 1999 ($7.75 and made in, of all places, Cucamonga), while not as elegant as the Sierra foothills elixir, was no slouch.

"That's my favorite," our waitress revealed, approving of an appetizer selection of won ton-wrapped white prawns and diver scallops in pomegranate sauce ($12). We were soon to hear those words, "my favorite," applied to every dish we ordered, and in the case of the won ton creation, inappropriately.

In fact this appetizer was torpedoed by ice-cold prawns wrapped in tepid, greasy won tons. But let me back up and praise what's worth praising here. Arriving on a white square plate, the skewered prawns were organized as a pretty, vertical trio, with fat, pepper-encrusted scallops grouped in the center. The scallops (served hot) were terrific, as were the fruity sauce and some delightfully crunchy infant coconuts the size of olives. But the kitchen must make an effort to offer hot won tons or lose them altogether.

My salad of walnut-strewn greens accompanied by pear slices and crumbled ripe Stilton was delicious and bountiful ($7). We turned to our wine and some fine fresh Italian bread. These ceilings must be 30 feet high, I mused as we waited and waited for our main dishes.

When they did arrive, the entrees proved worth the wait. On its huge white plate, Amber's buttery, plump filet mignon perched like a gleaming citadel, overlooking ethereal potato puffs and some crisp, delicious green beans ($27).

My order of roasted chicken ballotine ($17) was a beautifully executed version of a continental classic. Perfect slices of moist chicken breast, expertly filled with a sage and chestnut mousse, fanned out across a field of satisfying mashed potatoes. A gorgeously constructed sauce of reduced chicken juices and thyme rounded out this skillful entree.

I had to admit that the filet mignon, pink and tender, was a gorgeous piece of beef, even though I didn't go mad for the apple wood smoked bacon that was wrapped around its midsection. Napped with a memorable truffle Madeira sauce, the dish embodied the thinking-woman's steak.

Feeling quite snug at our corner table, we began thinking about dessert. Along with decaf espressos, we pondered various chocolate possibilities, sorbets and some of the other usual pastry suspects. Dialed firmly to "sorbet," Amber insisted on a frozen creation involving raspberries and cabernet ($6.50). The walnut-pear crostatta ($7) caught my eye, and my companion's as well. Her fork is notoriously promiscuous.

When desserts eventually made an appearance, the deep purple sorbet arrived in a tall martini glass, abundant with an intense raspberry flavor, deepened by the wine. The berry tang, alas, was smothered by sweetness. The crostatta was right on the money. The flavors of autumn shone through a tender buttery crust, and the pretty round tart was accompanied by drizzles of caramel sauce and a scoop of sensational vanilla gelato. Actually a scoop of the tightly textured, subtly tangy gelato might have been the perfect partner for the sweet sorbet.

Agenda's dining room cries out for a larger following among serious diners. There's a talented chef in the kitchen and a menu built around a clear, elegant agenda.
---
Agenda
Address: 399 S. First St., San Jose
Phone: 408.287.3991
Hours: Dinner Tue-Sat from 5:30pm
Cuisine: New American
Full bar; live music
---
[ Silicon Valley | Metroactive Home | Archives ]