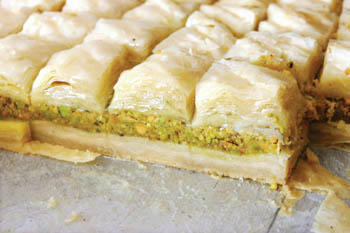 Photograph by Felipe Buitrago

Honey Train: Baklava is one of the sweet treats at Copenhagen Crown Bakery.

Local Ovens We're Lovin'

A holiday tour of the South Bay's best bakeries

By Leith Steel

The South Bay is chock-full of specialty bakeries. Bakeries famous for special items you can't get anywhere else. Places that have built devoted followings. They're the places frequented by people who are in the know, the people you invite to your holiday party because you know they'll bring something good. Now you can join their ranks. Here are some of the best bakeries Silicon Valley has to offer:

Nearly 60 years ago Clarence and Richard Sota founded Dick's Bakery. Richard is retired, but Clarence is still in the bakery each morning turning out as many as 100 burnt almond cakes every day. Customers are so devoted to this creamy creation that Bon Appétit magazine asked to print the recipe. Sota said no. Hard-core fans beg them to ship the cake. Again, no such luck. The only way to try this local favorite is to go to the bakery yourself and pick up a slice of this moist, double-layered cake, whose name comes from the dusting of toasted almonds garnishing the cake. Reminiscent of crème brûlée, the crispy almonds evoke that burnt sugar flavor before yielding to the butter yellow custard and whipped cream below. Lest this homespun cake be too simple for you, it also comes in chocolate, marble, pumpkin, spice and Italian rum flavors.

The Portuguese Bakery has been around since 1977 and specializes in Portuguese sweet bread. In the old country, this particular bread makes appearances at festivals and other social events. To make it, the Couto family uses a rich, slightly sweet egg-based dough. Similar to brioche, it's great for linguiça sausage sandwiches, toasted or made into French toast and bread pudding. However, I personally go for the malacadas, also known as filhos. Malacadas are made with a very light egg-based dough, similar to a popover and delicately perfumed with lemon. They're fried and then coated with a light dusting of sugar. The result is greaseless and airy.

Just across the street from the Portuguese Bakery is Copenhagen Crown Bakery & Deli. This delightful shop specializes in Danish pastries. Its shelves are laden with treats liable to convert even the staunchest breakfast skipper, but they're great any time of day. The cheese Danish sets slightly tangy cream cheese custard in delicate layers of pastry. On the other extreme is the Danish custard puff, a huge balloon of dough—imagine an inflated croissant, filled with intense vanilla pastry cream. The heavy cream belies the lightness of the dough. Other enticing items include a cinnamon crispy (light and flaky layers of sweet dough burnished with a crisp cinnamon sugar coating) and numerous coffee cakes.

In the same neighborhood, but on a completely different note, Rangoli has been turning milk into candy for 12 years. These Indian milk sweets are featured at many festive occasions and are a requirement during Diwali, the recently passed Hindu holiday. They come in various shapes and colors. Pistachio burfi is similar to a truffle nut-chew filling, a pistachio marzipan of sorts. Gulab jamen sandwich pairs two wafers of fried cottage cheese fritters with a ricottalike filling. The entire concoction is soaked in sweet and sticky rose-water syrup. More adaptable to American tastes is the Indian donut, a pastry that gives Krispy Kreme a run for its money. It's a dense ball of deep-fried dough glazed in a crisp, sugar coating. It's crunchy at first, but then dissolves almost instantly in the mouth.

Sheng Kee Bakery and Café is another Eastern import. This chain of Taiwan-style bakeries sells breads, sweets, sandwiches and savory snacks. One popular item is the coconut cocktail bun. It's a cross between a dinner roll and a Twinkie, an odd-sounding but delicious combination, and is composed of dense bread dough wrapped around a rich coconut buttercream and then glazed with melted butter. First you taste the butter, then you get the coconut. Even better is the egg custard tart, in which tissue-paper-thin layers of pastry form a shell that shatters on contact and gives way to silky, smooth custard inside.

A list of South Bay bakeries would not be complete without mentioning Fleur de Cocoa. This pastry emporium is the place for gourmet works of art. Master French pastry chef Pascal Janvier was named as one of the "top ten pastry chefs in America" by Pastry Art and Design Magazine two years in a row. At his little neighborhood shop in Los Gatos, Janvier creates masterpieces of French confectionery. His miniature pain au chocolat plays mini-me to the chocolate croissant. Of his signature cakes, the chocolate royal sets a rich chocolate mousse over a thin layer of almond sponge cake and a crispy hazelnut praline that snaps, crackles and pops like a bowl of Rice Crispies. Chocolate velvet sheathes the top layer of mousse, lending it the most sensual of tactile appearances.
---
Dick's Bakery 593 Meridian Ave, San Jose. 408.269.5212.
Portuguese Bakery 2082 El Camino Real, Santa Clara. 408.984.2234.
Copenhagen Crown Bakery & Deli 2079 El Camino Real, Santa Clara. 408.243.5443.
Rangoli 1584 Halford Ave., Santa Clara. 408.244.1160.
Sheng Kee Bakery and Café Various locations
Fleur de Cocoa 39 N. Santa Cruz Ave., Los Gatos. 408.354.3574.
---
---
Send a letter to the editor about this story to letters@metronews.com.
---
[ Silicon Valley | Metroactive Home | Archives ]