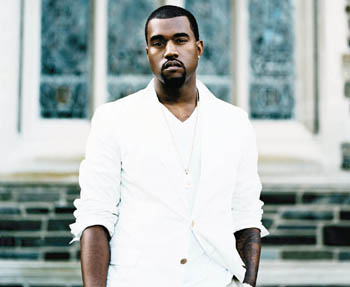 Photograph by Sarah Friedman

He Don't Care What People Say: Luxury box residents got an earful from Kanye West last week at HP Pavilion.

God Complex

Chutzpah, thy name is Kanye (but in a good way)

By Todd Inoue

THE FOG machines belched out a thick blanket, swallowing the stage. White klieg lights cast a messianic glow. A drum machine stuttered tantalizingly on the intro to the No. 1 single "Gold Digger." Then the sound went dead, and a lone voice asked for a request: The show wouldn't continue until all the television sets in the HP Pavilion luxury boxes were turned off.

"If you want to watch the game, go home and watch the game," the voice, belonging to Kanye West, chastised. "If you're in the VIP, I'm sure you're rich enough to have TiVO."

Convincing the audience to comply took a bit longer, but rap's resident regulator wasn't budging. "What's the score?" he teased. As the final luxury-box TV screen went dark, he let the beat slide, and the concert continued.

Such is the chutzpah of Kanye, taking a No. 1 single hostage until all his demands were met. His rap skills are questionable, his dance moves are jerky, his singing voice is suspect—but his imagination, production acumen and heart more than compensate. There's no shortage of bluster or belief in his nervous system. From browbeating Vibe magazine for not putting him on the cover or claiming he was robbed for Best New Artist (to Gretchen Wilson) at the 2004 Grammys, he'll never be accused of modesty. The rap world is better because of his Late Registration and College Dropout, where his best songs address topics—conflict diamonds, mortality, religion—beyond radio's narrow scope.

Kanye West could have sleepwalked through an autofellating marathon last week, but the rapper/producer and George Bush basher pieced together a stunning self-portrait. It held little in common with concerts of his contemporaries—blending minimalist stage effects with dreamily conceptualized visions of his songs. His band—Roots percussionist Frankie Knuckles, DJ A-Trak, a seven-piece string section and a keyboardist—performed behind gauze shrouds. Two backup singers were situated stage right, and guest rappers GLC, Lupe Fiasco and Consequence briefly appeared for their cameos then quickly disappeared. No hangers on, no towel wavers, just Kanye, his canon and his imagination set on stun.

Kanye framed songs with thoughtful bumpers, adding context. The Eurythmics' "Sweet Dreams (Are Made of This)" led to "Addiction." Prince's "Diamonds and Pearls" tipped its hand to "Diamonds of Sierra Leone." Damian Marley's "Welcome to Jamrock" bled into "Get 'Em High." During one sequence, he rolled out of bed, pulled on a name-tagged shirt and moaned through "Late" and reminisced about lean days on "Spaceship."

He rightly pointed out that the first hour of songs was essentially devoid of hit singles, yet fans reacted as strongly to album cuts "Touch the Sky," "We Don't Care" and "Heard 'Em Say" as much as to radio foursome "All Falls Down," "Gold Digger," "Slow Jamz" and "Jesus Walks." "Jesus Walks" closed a strong quartet of hits, and he should have stepped off there. Instead, West stretched his 60 minutes of fame. He dropped snippets of production credits: Twista's "Overnight Celebrity" and Jay-Z's "Encore" to browbeat the point. He portrayed himself as the tortured artiste, performing the battle track "Bring Me Down" as negative reviews scrolled across a screen. Next was the poignant pick-me-up "We Major" and the cost-to-floss set closer "Diamonds of Sierra Leone."

It was an overreaching move, but as shimmering confetti blew from the stage, West stood triumphant, confident his full, unfettered vision was presented and honored. West can continue his egotistical ways because, as the street ball mantra goes, it ain't bragging if you can back it up.
---
Send a letter to the editor about this story to letters@metronews.com.
---
[ Silicon Valley | Metroactive Home | Archives ]