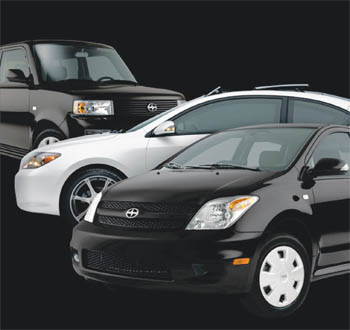 The Cars That Go Boom: L'Trimm should do a comeback tour sponsored by Scion.

Brand Awareness

A car company wants to tap into hip-hop culture, but should hip-hop allow it?

By Yoshi Kato
Additional reporting by Todd Inoue

THE INTERSECTION of art and commerce can be a combustible mix. Take Scion, the youth-oriented automobile brand, which has made a distinct effort to market itself to Generation Y. With flashy accessories like ambient lighting, custom wheels and iPod docks, the Toyota line of cars is careening toward the 18-to-25-year-old males of the hip-hop confederacy. It's doing so by sponsoring concerts, club weeklies, mix CDs and fashion and art shows in 70 cities, including San Jose and Cupertino.

The company also runs a national DJ search with one of its marketing partners, the Rebel Organization. Scion schwag—including T-shirts, DJ bags and wrist bands—is given away at these events, as are specially commissioned quarterly mix CDs (print run: 500,000). For the company's investment, the event fliers, email blasts and other advertisements are stamped with the metallic circular Scion logo and their cars are sometimes parked outside the venues.

"Scion designates a certain number of sponsorships per month per market for events, and it's essentially a flat fee that we give to promoters," says Karen DaVanzo, project manager for the Rebel Organization. "For instance, I have three sponsorships a month in San Jose, and another three in San Francisco."

"That right there handles all my promotions," says South Bay-based promoter and DJ Aspect of Scion's 21st-century brand of patronage. "Literally, I can go and press 10,000 fliers. Otherwise, I would be paying out of pocket."

The Scion cash has come in handy for Aspect and other promoters who put on hip-hop events in the South Bay. Universal Grammar's Tommy Aguilar has brought Crown City Rockers, Ladybug Mecca, Lyrics Born and DJ Questlove to the South Bay, also with help from Scion. At the Brit, shows have been of the "backpacker" variety—Living Legends, Fatlip, Project Blowed and Shapeshifters, acts that would normally bypass the South Bay. On Nov. 18, Aspect held a show with Wu-Tang Clan member the GZA that brought out 330 paid ticket holders.

"I've had some shows lately that would have been tricky to do—artists with not really big names or local San Jose people," Aspect says. "Without Karen [and Scion], those events would be questionable, because it cuts overhead in half."

The push toward a youth market goes beyond live event and music promotion. Log on to Scion's homepage, and one notices a "Culture" button. From there, one can link to music streams, contests and bulletin board rants. Last month, the car company opened an art gallery in Culver City. Its opening exhibition, "Soothsayers," curated by David Choe, features street artists like Ewok, Saber, Jordan Crane and Barron Storey.

Toyota's whole promotional push to align itself with the hip-hop generation has some heads wary. In a now notorious and profane post, blogger Sergdun (beerandrap.com) put Scion on blast. "I love Toyotas, but the whole marketing campaign they have put behind Scion is some motherfucking bullshit," he wrote. "Shit, I don't even think the cars are that bad, but this whole shit with them trying to cash in on the hip-hop market annoys the piss out of me.

"They fucking try to buy their way into hip-hop by giving away money for parties if people promote their shit with it," he continues. "I can't front on someone for taking that money, but what I can front on are the trendy shitheads that believe in the Scion 'movement.'"

For hip-hop's purists, Serg's rant is familiar. When an outside corporation tries to align itself with a cultural phenomenon, especially one with a history of controversy and rebellion as hip-hop, it's a high-risk strategy. If Scion wants to be down with hip-hop, some say, it has to embrace all aspects of the culture. Scion's commitment was challenged last August when Texas rapper Bavu Blakes was disqualified from a Scion Nextup MC competition, after making the final 10, because of "political lyrics" in his song "Black Gold."

"Scion as a company has garnered a lot of praise and has also taken a lot of heat over the past couple of years for their co-opting of hip-hop music and culture to sell their cars," wrote Matt Sonzala on his blog HoustonSoReal.blogspot.com. "Does this action prove the naysayers right? ... If they are so down with the streets and hip-hop culture then why are they trying to censor one of its strongest voices?"

For the past three decades, hip-hop has emerged as one of the world's strongest pop-cultural indicators, influencing fashion, linguistics, advertising, art and music. Hip-hop decides what's cool and has a long history of elevating brands: Adidas, Tommy Hilfiger, Nike, Air Force Ones, Hennessy, Cristal, Bally shoes and Cool Water Cologne have all benefited from a name drop in a song or a cameo in a video. The difference, some argue, is that Scion is trying to purchase its ghetto pass rather than being embraced by hip-hop.

But according to Aspect, who recently left the Cupertino Britannia Arms to focus on other venues in the South Bay, fans are just glad the local concerts and hot mix CDs exist. Shows are risky to produce, so the sponsorship gives him a safety net. "As far as the corporate machine, I notice people are just interested in what I'm giving out and are accepting it with open arms," says Aspect. "To be honest with you, whatever is free is openly embraced."

The Scion mix CDs, featuring work by DJs such as Jazzy Jeff, Pete Rock and Peanut Butter Wolf, are big items, Aspect says. His partner, DJ Spair, won the last Scion mix competition. His work will be distributed to a half-million people on a CD stamped with a Scion logo and distributed at Scion-sponsored soirees.

"I'm not doing corporate events, but a corporation is helping me accomplish my goals," Aspect says. "And that's really where it stands. And I don't actually own a Scion. I'm a BMW man."

"I think with anything, there's always going to be skeptics," DaVanzo concludes. "Is Scion sucking off the culture? I can't give an objective answer, of course. But I'd say 'no.' I see it as building on the culture."
---
Send a letter to the editor about this story to letters@metronews.com.
---
[ Silicon Valley | Metroactive Home | Archives ]