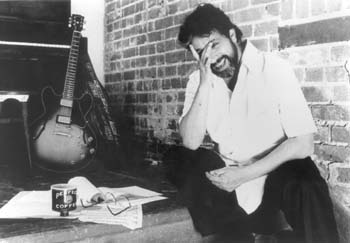 Able Cain: South Bay bluesman Chris Cain played all but one instrument on his new CD.

Blues Christmas

Chris Cain celebrates the season with a new album of holiday originals

By J. Douglas Allen-Taylor

CHRIS CAIN doesn't play the South Bay nearly enough, and this is said from a purely selfish point of view. The blues singer/composer and Valley native is one of the music treasures of our area, an absolutely wonderful performer, better in concert than he is on CD, which is saying an awful lot. Cain plays in San Jose this weekend, performing original songs from his newly released CD (No. 7 and counting), Christmas Cain--Blues for the Holidays.

If you haven't seen or heard him before, the beginning of a Chris Cain concert can be something of a startlingly pleasant experience. With his little-boy looks and tousle of curly black hair, you expect a high-voiced crooner of pop standards, or else the sort of pseudo-rasping rocks-in-the-throat kind of nonsense that a lot of young singers think is supposed to be "blues." Instead, Cain's singing comes on like the deeply melodic rolling of the Mississippi River, slow and unrushed for the most part, but always in danger of spilling over the established boundaries and flooding the countryside with its emotion. He is one of the best of the so-called modern bluesmen, able to maintain the traditional sound of old-time artists like Robert Johnson and Muddy Waters while keeping up the freshness and innovation and artistic creativity that made the original blues so explosively powerful.

Christmas Cain is in that tradition. "These are not remakes of done-to-death Christmas carols," a spokesperson for Cain's publishers, The Blues Agency, assures us. "[They are] fresh blues and jazz grooves packaged with soulful singing and songwriting by a master musician." Generally you can ignore such publicity hype, but in Cain's case, he long ago proved his musical worth. Cain has also gone the Prince route on this newest CD, playing every instrument himself except drums. Along with his usual rhythm guitar work, he accompanies his singing on the Steinway grand piano, Korg M1 piano, Hammond B3 organ, and bass guitar.

Cain's South Bay concerts this year have another purpose besides bringing listening pleasure. Concert attendees are being urged to bring charitable donations in exhange for a free Christmas Cain CD. "New, unwrapped gifts and gift certificates for food or clothing are high priority," says Karen Jefferies of the Volunteer Center in Santa Cruz, which is coordinating the effort. She says that although donations don't have to be geared toward a certain age group, gifts for teenagers are especially needed, since that group is often overlooked.
---
Chris Cain plays at a CD-release party for Christmas Cain--Blues for the Holidays, Saturday, Dec. 18, at 9pm at JJ's Blues, 3439 Stevens Creek Blvd, San Jose. Tickets are $12 and charitable donations are encouraged. For more information, call 408.243.6441.
---
[ San Jose | Metroactive Central | Archives ]