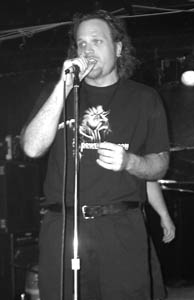 Perotti hosted Powerslave's fourth birthday at the Pound.

Slave to the Grind

Powerslave.com is for sale--if no one buys it, the site will close

By Sarah Quelland

'I JUST HIT THE END," Powerslave.com founder and editor-in-chief Mario Perotti confesses. "It's like you push, push, push and push for so long. Then that wall smacks you in the face, and you don't want to push anymore." When he started the site in 1999, Perotti says he envisioned a small site he'd do for fun in his spare time. Four and a half years later, Powerslave.com has become a leading online voice of Northern California's underground metal scene and a comprehensive archive of the past four-plus years of Bay Area music history.

For Perotti, it's been a labor of love, but the love affair is most certainly over. "I'm tired," he explains. "An eight-hour workday followed by four to six hours a night on Powerslave.com finally took their toll." As a result, Powerslave.com has been put up for sale.

Perotti and his primary business partners--lead web developer Mike Graben, publicist Jennifer Leggio and director of operations Michael "Ryan" Saunders--value the site at $500,000 in man-hours and development, but the asking price is $50,000. If the site doesn't sell, it will close down permanently on Jan. 31, 2004, at midnight.

Consistently developed and upgraded with content added daily, Powerslave.com includes show reviews, band interviews, regional scene news and club schedules. One of the most recent additions is the "My Powerslave" feature, which allows registered users to personalize their Powerslave.com experience and get email updates when their favorite bands are playing. The site reportedly receives close to 9 million hits a month by some 27,000 unique visitors.

"The site is still growing, so I know the audience is there," Perotti says. "That is just it. It has grown so big that we are overwhelmed and lack the manpower to take it to the next step." Though it doesn't currently turn a profit, Perotti states with confidence, "With the right plan and people, Powerslave.com will become a cash cow."

The goal was never to sell the site. "That wasn't even a thought until just recently," Perotti swears. In retrospect, though, the "Anatomy of a Burnout" editorial he wrote in October was probably the first sign that there was trouble in paradise. There, he posted, "Powerslave.com has become this beast of a site, and the effort to keep it moving is becoming more and more of a heavy burden. We want to continually make it the coolest place to visit, yet it was just getting harder. In some cases, our health suffered. In others, our personal lives suffered. In still others, our financial well-being suffered." At that time in October, Perotti tried bringing in new people to help shoulder some of the workload. Two months later, he decided it was time to let go completely.

Now, he says, "We'd like to make our money back from investing in the site through the years and continue to allow Powerslave to be a central focus for the scene. We just aren't going to be the ones to drive the site anymore."

As for potential buyers, Perotti says he thinks it would be a valuable acquisition for independent entrepreneurs or established companies that could benefit from the existing infrastructure and regional branding of the site. He says there have been several inquiries that could be serious, but it's still too early to speculate on what the end result might be.

Regardless, Perotti's ready to move away from music, and he has new professional projects that he expects will challenge him in new ways. Until Jan. 31, Powerslave.com will continue business as usual, and Perotti's farewell column will appear in Zero magazine on Jan. 10.

HOT TOPIC: The brilliantly and beautifully depressive Remoter (featuring Andrew Fleig and Jeff Hefti) debuts new material at Pacific Art Collective's Pac Session this Saturday (Dec. 20) at the Temple Lounge in downtown San Jose. This PAC Session includes musical performances by Uneaq, Jaylia and Datz Hym & Hym 2 plus standup poetry, dance and painting. Visit www.pacificartcollective.com.
---
Send a letter to the editor about this story to letters@metronews.com.
---
[ Silicon Valley | Metroactive Home | Archives ]