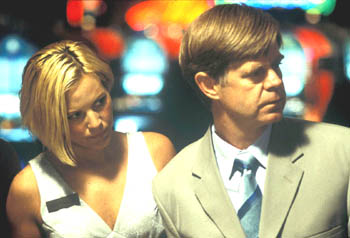 Photograph by Jim Sheldon

Bad-Luck Charm: William H. Macy depresses the high rollers at the casino until Maria Bello cheers him up in 'The Cooler.'

Tumbling Dice

William H. Macy plays a misery goat who goes for the gold in Vegas fairy tale 'The Cooler'

By Richard von Busack

DO YOU MOURN for having never seen the Rat Pack, pally? Does Sammy Davis Jr. mean more to you than Jay-Z? If you want to wallow in some gross sentimentalizing of the old Vegas, take a gamble on The Cooler. The bad old Sin City is embodied by the reptilian Alec Baldwin as Shelly, operator of a downtown casino. He's too ornery to stand aside as Vegas is turned into Disneyland-in-the-desert in order to draw the "stroller" (family) crowd. This seems like the standard Alec Baldwin performance, if maybe a little more truculent than usual; weirdly, the Powers That Be have been talking about an Oscar for him. There's less buzz for the typical William H. Macy performance. Macy plays Bernie, the casino's "cooler," a paid distracter, a jinx. By his hangdog presence alone, Bernie cools down the red-hot players at the craps tables or the blackjack pits.

Wayne Kramer's film is a Vegas fairy tale. The deal is that Bernie's bad luck changes when he encounters Natalie (Maria Bello), a cocktail waitress who picks him up and takes him home. Suddenly, Bernie loses that valuable quality of casting a pall over the gamblers. This turn of luck is a crisis for Shelly, and Shelly needs no more crises. His financiers from back East--one is played by Ron Livingston from Office Space--are already planning to demolish the old Vegas hangout, seeking to turn it into something more family friendly.

The Cooler lays it on thick. Part of the story is that Shelly fractured Bernie's knee to punish him for his degenerate gambling. Two essay questions: One, as an actor, does Macy need a limp? Two, did director Kramer really need to have Bernie sort of thank Shelly for that knee-fracturing wake-up call? It's too much like that Monty Python joke about the Cockney debtor who begs the Piranha brothers to nail his ear to a coffee table. The Cooler turns silly in a hurry. Despite the higher-than-ordinary level of sex and violence, it crumbles, revealing a sugary cream filling. Shelly sees his casino as an embodiment of his favorite Frank Capra movie, Lost Horizon: "You don't fuck with paradise."

Bello makes the strongest impression. During the titles, her face is zapped onto the side of the real-life Lady Luck Casino (one bright visual trick, along with Kramer's startling inset of an X-ray effect to show us how good Shelly is at spotting a cheater). They may not make film noirs like they used to, but Bello shows that there's a heroine for them ready and waiting. Bello has left quite a trail, clawing her way out of Coyote Ugly, stealing Auto Focus from its stars--and there's originality and sharpness in her part as a worn babe with a quiet Lana Turner voice and a pair of dice tattooed on her rump. The gold-hearted Vegas chippie role is good for any actress, but Bello makes a distinct impression with it, using her own shrewdness and duplicitousness--and a crude, good-heartedness--underneath. No actress could have been cooler.
---
The Cooler (R; 101 min.), directed by Wayne Kramer, written by Kramer and Frank Hannah, photographed by James Whitaker and starring William H. Macy, Alec Baldwin and Maria Bello, opens Friday at Camera One and Century 25 in San Jose.
---
---
Send a letter to the editor about this story to letters@metronews.com.
---
[ Silicon Valley | Metroactive Home | Archives ]