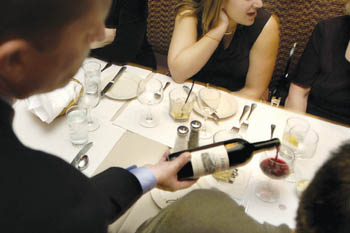 Photograph by Charlie Nucci

It Takes a Vintage: Patrons prepare to enjoy chef Maurice Dissels' seasonal inventions.

Lucky Charm

Birk's keeps its grip on an age-old formula for success: a happy host, grade-A beef and delectable desserts

By Joseph Izzo

I FIRST discovered Birk's 14 years ago. The restaurant had just opened, and owner Birk McCandless was there to greet his guests. He handed out menus and, smiling and cheerful, checked on tables full of spirit and excitement.

Birk's consistent charm has practically become a culture unto itself, embraced by his trained staff. There he was again during my latest visit, greeting patrons in his suit and tie, seating diners and handing out menus.

I don't agree with those who complain about the noise. At Birk's, people celebrate. They chatter and laugh, meet strangers, forging easy friendships at the stools and tables. The place literally vibrates at times with the high-voltage enthusiasm. What's more, you can come as you are at Birk's--in suit or Levis, it doesn't matter. Everybody gets to romp under the handsome dark woods in the warm, amber lighting.

As a child in British Guiana, head chef Maurice Dissels was raised with an appreciation for the seasons and the products each bestowed throughout the year. With this understanding, he brings to the pans nature's ever-changing bounty, harvested mostly, he told me, from local farms. This roving approach has encouraged Dissels' duo of sous-chefs to stretch their considerable talents.

I like to open a Birk's dinner with a plate of fried calamari ($9.95) sprinkled with toasted garlic and awakened by fresh lemon juice. On warm days, I'll grab a stool under the television in back and order a pint of Pyramid Hefeweisen floating a lemon wedge. Then, I order an appetizer of fresh ahi ($10.50), flash-seared and served as sashimi with wasabi and pickled ginger.

During this last visit, however, my guests and I began with the chilled shellfish platter ($40). Draped elegantly on a pillow of ice were giant prawns with heads and feelers intact, chunks of cracked crab and a variety of oysters shucked fresh at the raw bar.

My guest Rev. Scullion looked back to land for his entree--a juicy porterhouse ($45.95) that he warned us to stay away from by comparing his hunger to that of "a wolf who hasn't eaten in three days." Buckhorn apple-wood bacon wrapped the edges of our filet mignon ($31.95), grilled rosy at the center and three fingers thick. The wood-charred surface of our bone-in rib-eye ($32.95) reflected glossily under veils of melting Roquefort butter. In step with tradition, steaks arrive flanked by richly textured creamed spinach and mashed potatoes infused with garlic. Birk's serves nothing less than USDA prime grain-fed Midwestern beef--and in generous slabs.

Steaks comprise just a portion of the pleasures listed on the menu. I remember a plank of grilled swordfish (price varies), so fresh it still had that briny-sweet fragrance of the ocean. Nieman Ranch pork chops ($23.95), grilled fast over clean-burning almond wood, wore brush strokes of satay peanut sauce.

On weekends, the kitchen at Birk's has raised the ante with three-course prix fixe menus for $39 ($55 with suggested wines). From this ledger, we sampled a duck-leg confit, cooked rich and tawny in its own fat, as it should be, and for the second course, a steamy risotto with lobster and black truffles, finished off with a spray of white truffle oil.

Just when we thought it would be impossible to be any more impressed, desserts arrived with coffee. The warm chocolate cake magnetically pulled everyone's fork to its pure chocolate core. Birk's rendition of Key lime pie fulfilled the promise of this renowned confection, achieving subtle union between sweet and sour.

Birk's has never rested on its laurels. The kitchen undergoes constant transformations, retooling classics in exciting ways, and yet manages to make such transitions effortlessly.
---
Birk's
Address: 3955 Freedom Circle, Santa Clara
Phone: 408.980.6400
Hours: 11am-10pm Mon-Fri; from 5pm Sat-Sun
Cuisine: Haute American
Price Range: $8-$45
---
---
Send a letter to the editor about this story to letters@metronews.com.
---
[ Silicon Valley | Metroactive Home | Archives ]