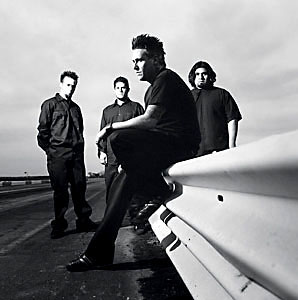 Papa Roach is on the road again.

Roach Rules

Papa Roach remembers its roots at LIVE 105 show in San Jose

By Sarah Quelland

A LINEUP OF MIDLEVEL BANDS compounded with a rainstorm put a damper on the turnout for LIVE 105's Not So Silent Night, held last Friday (Dec. 13) inside the HP Pavilion. The arena was only about half full of people who braved the elements to check out DJ Shadow, the Donnas, Good Charlotte, Jurassic 5, Sum 41, Moby, Disturbed and Papa Roach. The show was supposed to start at 7pm, but the Donnas took the stage at 6:40pm and had their set wrapped by 7:10pm (whose great idea was that?!), leaving fans who missed them disappointed. Luckily, the girls return on Jan. 24 to play the Icon Nightclub in their hometown, Palo Alto.

While Sum 41 brought pure Canadian chaos to the stage, this year's performance wasn't quite as boisterous as it was at last year's NSSN. It wasn't until about halfway through their set that the guys got really riled up with their live-only song titled, uh, "Anna Nicole Smith Is a Dirty Cunt." I guess they're not fans of the trashy tabloid diva or her vanity-show exploits.

Meanwhile, Disturbed's muscular and masculine metal was in complete contrast to Sum 41's delinquent, hyperactive punk-rock. Charming as a cobra, Disturbed's charismatic frontman David Draiman pronounced his the only "big, bad metal band" on the bill and described its sound as "old-school, heavy fuckin' metal." At his command, a sea of metal horns raised up from the floor. "Look at the power," he said in approval. "And they say metal is dead."

Throughout the performance, Draiman, dressed in black fitted jeans and a tight black shirt, strutted around like a god. Technical difficulties didn't faze the band one bit. When Dan Donegan's guitar lost power, leaving Disturbed with a drum 'n' bass version of "Down With the Sickness," the band stopped the song and started over with a vengeance. Letting his defining, razor-sharp vocals rip, Draiman was theatrical and intense. Reliving past trauma ("I'll be a good boy, I promise / No, Mommy, don't hit me / Why did you have to hit me like that?"), he engaged in battle with his invisible attacker--and with his own fists turned against him in rage. Disturbed indeed.

Headliner Papa Roach received an extremely warm welcome in San Jose. Lately, the band has been using Mike Doherty (a.k.a. Dirty) of Longfellow as a second guitarist for live shows, and he joined Papa Roach at NSSN. At this, the band's last show of 2002, frontman Jacoby Shaddix (formerly Coby Dick, at times Johnny Vodka) seemed particularly sentimental. "This is family right here," he said, looking out and pointing to the familiar faces in the crowd, fans who have been with the band since the beginning and always find their way to the front of the stage. Shaddix pounded his heart as a sign of love and respect. "I'm sorry I didn't return your phone calls," he said. "I lost my mind."

After "She Loves Me Not" and "Dead Cell," Shaddix, always raw, emotional, honest and confessional, told the crowd, "If you have one of these, you must fucking run," before breaking into "Broken Home." Still, Shaddix wouldn't be Shaddix without some shenanigans. Staying true to his punk roots, he dared everyone to get naked and then mooned the crowd and ran around with his pants half down during "Blood Brothers." During "Time and Time Again," he jumped into the thick of the crowd and made his way along the crush of people before getting back onstage. The band closed with the Fight Club-inspired "Between Angels and Insects," and it was obvious the guys didn't want the party to end. They extended the song several times, and friends and fans watching from the side of the stage rushed out when Shaddix called, "Come dance with me!" Papa Roach returns to the Bay Area on Jan. 19 for a show at the Warfield with Blindside and Memento.

FAMOUS AMOS: Mix 106.5 brings Tori Amos to Agenda Lounge Thursday (Dec. 21) for a special morning performance as part of its Mix Spotlight series. Listen to win.

PLAN AHEAD: Cafe Night with Dan Potthast, A Burning Water, Alex Security, Miles Between and Jerk Dave, Dec. 19 at the Outhouse in Los Gatos; Alien Love Syndrome, Los Bastardos de Amor, the Substitutes and Holy Zoo, Dec. 23 at Kleidon's Lounge.
---
Send a letter to the editor about this story to letters@metronews.com.
---
[ Silicon Valley | Metroactive Home | Archives ]