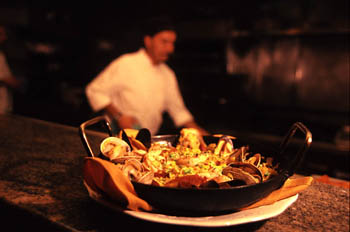 Photograph by Troy Bayless

Shell Shock:Manila clams open wide, ready to be tossed with tender noodles.

The Bitter and the Sweet

Revisiting the baroque Italian world of Viaggio

By Joseph Izzo Jr.

THE WEATHER was warm on those early visits to Viaggio, and we ate out on the patio, basking in the open air with pasta and wine, embraced by the tranquillity of life in the village (of Saratoga). Food, service, ambience and all of existence, for that matter, had--like a mosaic--fallen neatly into place.

Hungry for such memories, I recently revisited Viaggio. On this latest visit, the weather was cold, and we had to eat inside. The warmth we felt this time came not from the sun but from the personality of this Mediterranean restaurant. We were seated at a spacious table on cushioned wicker chairs in full view of the stainless-steel kitchen, where chefs worked steadily. The staccato of popping wine corks surrounded us.

Viaggio's décor evokes a feeling of ancient Rome, with stone pillars and walls, and archways and friezes of bacchanalian activity. Though I prefer a simpler setting for Italian food, the theme was effectively established, although in places the dining room felt overdone, even pretentious. We were comfortable from start to finish, however, and eased by favorite melodies from a live pianist.

We opened with two appetizers: a flavor-deprived carpaccio ($12) of sliced raw filet mignon with microscopic evidence of white truffle oil and whole-grain mustard, and a delicious eggplant involontini ($9). The latter delivered fleshy slices of eggplant rolled around fragrant goat cheese on the edge of melting and enhanced with roasted-pepper ragout.

From the pasta and risotto section of the menu, we sampled both the bitter and the sweet of this restaurant's kitchen. The sweet took the form of linguini and clams ($19), which offered a bounty of Manila clams, fresh and opened wide, tossed with tender noodles in a half-reduced sauce of broth, garlic and wine. When we tipped the plate, we could spoon up the sauce like consommé.

In the realm of the bitter, butternut squash risotto ($17) had all of us scratching our heads. The joy of risotto comes from the rice and the labor-intensive process of making it. It endures as a regional specialty in most of northern Italy, especially in the city of Milan. Viaggio's current recipe may have been conceived with the right intentions, but the final product went awry. The rice should have been the star, but it wasn't. Too many ingredients and too many directions forced the flavors and textures into conflict. We all agreed that it was overworked.

But the next course, rack of lamb ($28), had all of us reaching for knife and fork. Five tender chops, cut thick and roasted rare, overlapped a bed of white Italian beans cooked tender in their natural juices. The meat melted like butter in the mouth. Gnawing the delicate bones prolonged the pleasures of this New Zealand specialty.

We also enjoyed seared jumbo sea scallops ($22), fresh from the water and many in number--washed clean and neat in mango vinaigrette. A tangle of spinach, frisée and radicchio made a salad that complimented the scallops like chutney to lamb.

We went straight to the heavenly gates with selections of flourless chocolate truffle cake ($7), like silk in the mouth, and crème brûlée ($7). Viaggio's version of this delicate custard was baked with a surface of caramelized sugar that cracked like an eggshell against the spoon. We literally cleaned the plates, finishing both desserts right down to the porcelain, washing it all down with double shots of espresso.

Our server kept pace with the business of the dining room, never missing a beat with menu descriptions or kitchen-to-table timing. We enjoyed her quirky sense of humor, which surfaced when she was inundated with holiday guests and their/our unceasing demands.

Viaggio seems to be weathering the economic downturn with little trouble. The quality holds steady. Except for that overworked risotto, most of what we sampled demonstrated efficiency and talent in the kitchen. I do prefer warm weather and Viaggio's patio. A late lunch would be perfect.
---
Viaggio
Address: 14550 Big Basin Way, Saratoga
Phone: 408.741.5300
Hours: Lunch 11:30am-2pm Tue-Sat; dinner 5-10pm Tue-Sat; brunch 11am-2pm Sun
Cuisine: Italian/Mediterranean
Price Range: $19-$28
---
---
Send a letter to the editor about this story to letters@metronews.com.
---
[ Silicon Valley | Metroactive Home | Archives ]