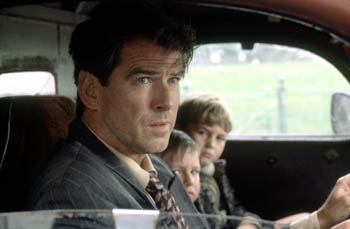 Bond Bonding: Pierce Brosnan plays a recovering father to Sophie Vavasseur in 'Evelyn.'

The Anti-Bond

In 'Evelyn,' Pierce Brosnan tries to play love in the house of spy

By Traci Vogel

FROM HIS EARLY DAYS on the small screen (TV's Remington Steele), Pierce Brosnan has radiated that catchable-bachelor blandness that serves him so well in the Bond films. Brosnan's matter-of-fact good looks don't have the swarthy sexuality of a George Clooney or the puckish pique of a Brad Pitt. Rather, Brosnan's grizzle plus his preppiness equal boy-next-door reassurance. Even as James Bond, Brosnan is more dad than bad-boy.

So his portrayal of a beleaguered Irish father in the new movie Evelyn comes as a pleasant nonsurprise. Struggling financially and abandoned by his wife, Brosnan's brogue-tongued Desmond Doyle loses his three children to welfare custody. Even after the pub-habitual Doyle bobbles back to his feet, he can't get the kiddies back. According to Catholic statutes, which the state has adopted as law, an acceptable "family" consists of a mother and a father, and Doyle's dissipated wife is halfway across the world.

Despite the built-in drama of its based-on-real-events premise, the plot struggles to escape being hackneyed. There is never, of course, a real doubt as to the outcome of Doyle's fight (or else it wouldn't have been made into a movie), and Brosnan's inability to deepen the character sets up a small rift between the audience's desire to cheerlead him and any real swell of emotion. The character moves through successive roadblocks like a potato-tilling tractor, chugging platitudes like puffs of exhaust along the way. Brosnan does best when, as in the Bond films or the excellent Tailor of Panama, he gets to use his angled gaze to sly effect, evincing a superiority that comes from secret knowledge--whether real or faked. In Evelyn, he seems unable to belly up to the underdog. His most effective scenes are the ones that play up Doyle's anti-institutional anger. Maybe, in playing Bond, Brosnan has gotten more used to tension than tenderness.

As a holiday charmer, however, Evelyn is a well-wrapped package. Shot with the golden cast we've come to associate with Ireland, full of cobblestone streets and beer-swinging jigs, the film's scenes weave across the screen like a rich brocade. As the title character, young Sophie Vavasseur's spark is genuine, and there are few moviegoing experiences as satisfying as the "precocious kid beats out mean old nun" routine. Evelyn combines aspects of Oliver, The Little Princess, Annie and John Q, all rolled up into one sugary fruitcake. Sure, it's a cake we've seen before, but it still looks good on the holiday sideboard.
---
Evelyn (PG; 94 min.), directed by Bruce Beresford, written by Paul Pender, photographed by Andre Fleuren and starring Pierce Brosnan, opens Friday at Camera 7 in Campbell and selected theaters valleywide.
---
---
Send a letter to the editor about this story to letters@metronews.com.
---
[ Silicon Valley | Metroactive Home | Archives ]