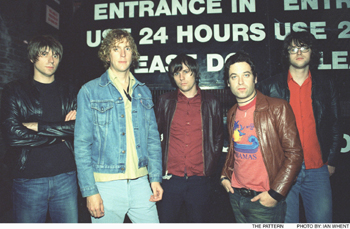 Photograph by Ian Whent

Oakland Stompers: The Pattern bares its East Bay soul.

Feel forYou

The Pattern doesn't neglect its influences and ends up making rock & roll that just may influence you

By Traci Vogel

RECENTLY, I stumbled across a website called My First Band. This is a site started by two guys who had a band in Detroit in the '60s and who wondered what had happened to all those garage bands that were obsessing about bang-a-licious hairdos and picking out chords on their Sears Silvertones during the musically prolific free-love decade. The site is a nostalgia fest of one-hit wonders, blurry photos and pun-ridden "The" band names: the Regents, the What Four, the Buoys, the Bad Experience, the Beathovens. There's even a band called T.H.E.

It's a sweet idea and makes for an intermittently voyeuristic read (i.e., "We may have discovered three-part harmony by accident, but [we] were never sure, because it was in Rich Bowman's basement, and his little brother erased the tape, the jerk"), but you don't need a website to know what happened to most of those bands. They rocked or they didn't; they had fun; they grew up; they went off to college and found something more stable to do with their lives. And they inspired a whole new batch of "The" bands an entire generation later.

The Pattern, out of Oakland, is one of those garage babies. Fronted by vocalist/lyricist Christopher Applegren, the 2-year-old five-guy outfit styles itself a catchy punk-boogie-pop, California-meets-Brit-meets-Motor-City noise band. Applegren is a former member of the Pee Chees and the current owner of Lookout Records, which released the Pattern's second album, Real Feelness, in September.

One look at the cover art of Real Feelness gives a real feeling for where the band is coming from. Certain streets of Oakland may be just as dusty, mean and industrial as streets in Detroit, so why not deck yourself out in red, black and gold, sideburns and roller-derby cursive script? And as long as you're going there, why not refer to the first half of your CD as "Side A" and the second half as "Side B"? Chances are, in this modern garage renaissance, a lot of your listeners are going to buy your album on vinyl, anyway.

Perversely, I still prefer CD, where every pop and crackle can be taken as part of the group's makeup and not its medium. And you need to be able to discern, because Real Feelness delivers a skronky, static bath of hard-hitting guitar chords and rattly drums.

Applegren's voice lisps with a little Richard Hell whine, but Applegren doesn't have an industrial vibe. In fact, his voice sounds more '60s than the music--and, therefore, occasionally doesn't match its weight. The better thing is, Applegren sings so you can hear his lyrics. This is good because his lyrics are actually catchy, dirty and even kind of emotional. Songs like "She's a Libra" and "Thunder Us" tell screwed-up-relationship stories with an appropriate rocker-boy wink.

In interviews, Applegren has acknowledged that the band's name is also no coy accident. Like most garage bands, the Pattern doesn't care to disassociate from the bands it loves, and so it freely cites influences like Big Star, Creation and even the Stones. And you have to love any band that says Pet Sounds changed its life and bumps Outkast in the tour van. But aside from influences, the Pattern has paid its dues in previous Bay Area bands like the Pee Chees, Saint James Infirmary, the Cutz, Heart of Snow and Nuisance, all of which makes for a taut and tantalizing stage presence.

Maybe you should be forewarned that the Pattern's live performances are not approved by Tipper Gore, hallelujah. The band has a reputation for volume and microphone abuse, and for being really, really fun to watch. Watch? Hell, you'd better start practicing your pogo jump. Get out of your garage and rock.
---
The Pattern and The Fleshies perform Friday (Dec. 20) at 9pm at Plant 51, 44 S. Almaden Ave., San Jose. Tickets are $8 and available through Jambasetickets.com. For more information, call 408.297.5151.
---
---
Send a letter to the editor about this story to letters@metronews.com.
---
[ Silicon Valley | Metroactive Home | Archives ]