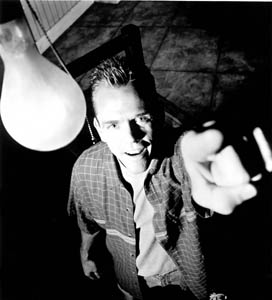 There's a Laugh That Never Goes Out: Christopher Titus plays New Year's Eve at the Improv.

Persistent Pain

Standup Christopher Titus is so funny it hurts

By

EVERYONE worries that the world is about to end," announces Christopher Titus. "People watch the news and go, 'Wow, it's the end of the world.' But the world's never gonna end. It'll just keep going on, and more weird crap is going to happen. Trust me, this world isn't about to end."

One thing's for sure: The world has not ended for Christopher Titus. In fact, for a guy whose TV show was canceled in March after 54 episodes, he appears to be in a remarkably fine mood. The show, of course, was the shockingly autobiographical Titus--a sitcom about abusive dads, insane mothers and gun-wielding siblings--which ran for three envelope-pushing seasons on Fox. It made Titus the poster boy for turning crappy situations into comic inspiration. The sitcom, after all, was based on his popular one-man show Norman Rockwell Is Bleeding, in which Titus revealed the secret humorous side of living with a suicidal mom and a bullying dad.

Titus just completed an episode of UPN's The Twilight Zone, and he has not one but three USO specials about to air on the Comedy Channel. A months-long tour of comedy clubs--appropriately titled the Fifth Annual End of the World Tour--has already begun and will bring him to the San Jose Improv.

On top of all that, he's getting ready to shoot a pilot for an hour-long action comedy on NBC. Tentatively titled Power of Arrest, it's about "screwed-up bounty hunters," as if Titus would play anyone who wasn't at least a little screwed up.

"I just finished writing it, and I'm scared out of my mind," he says, with a laugh, the same disarmingly edgy, ever so slightly hysterical laugh his fans are familiar with. "It's been a very weird year for me," he admits. "I always thought that if you worked your ass off, if you turned out quality product, if you gave the audience something good enough to make millions of them tune in every week, that would be enough. But it turns out that's not enough. Losing the show was hard, but in those 54 episodes, I did manage to tell every story I'd set out to tell, including the story of how I flipped out on an airplane when I finally started dealing with my mother's death. I used to end my one-man show with that story, and that's the last story we filmed for the Fox show--so maybe it was just time."

Titus, 37, was born in Worcester, Mass., but he grew up locally, primarily the Fremont/Newark area. As a teenager, he developed a fondness for classic hot rods, survived frequent fights with his hard-drinking father--actual fights, with real fists involved and everything--and eventually came to the realization that even though his family, his home life and his so-called childhood were, uh, monumentally fucked, he could still tell jokes about it.

Through sheer persistence and force of personality, Titus began scoring paying gigs at such legendary clubs as the Punch Line in San Francisco and the Last Laugh in San Jose--all before reaching the age of 18. He was, as they say, hungry for success.

"Chris Titus was always very driven," says San Francisco comic Debi Durst (yep, she's married to political satirist Will Durst). She was on the scene, already an old-timer, when Titus was starting out, and both Dursts took a liking to him. "He just had that look," she says. "I can't explain it, but I can see it. I saw it in Margaret Cho and Janeane Garafolo, too. You know they're going to make it because they want it so bad. It's always great to see someone you actually like and respect do well, because--unfortunately in this biz--there are so many who don't deserve it who get it. Anyway, considering his terrible past, I'm just really glad he got to make some money off it."

"Jay Leno told me that I should never stop doing standup," says Titus, explaining why he's always kept one foot in the comedy clubs. "Leno's thing was 'Every comic with a successful TV show who stops doing standup never got the skill back.' That scared the shit out of me." He's developed more than 30 minutes of new material, infused with a new worldview caused, in part, by his becoming a father just 16 days before Sept. 11, 2001.

"People say having a baby mellows you out," he laughs. "Well, having a baby has just made me angrier. I'm so much more aware of the world now that I have a child who's going to grow up in it."

The new standup show includes Titus' views on a whole list of things that anger him about the world, from pedophilia in the Catholic Church to the United States' apparent inability to capture Osama bin Laden.

"That Osama thing is so bizarre to me," he says. "Here we are, more than a year later, [and] we can't catch one old man on a dialysis machine--but we can sure as hell nail Winona Ryder's ass to the wall, can't we? I don't understand that. If you're a major terrorist, our entire military turns into the recon squad from F Troop. But if you're a waifish actress with a shoplifting problem, we are gonna be so far up your butt you'll never sit down."

If his fans worry that he's abandoning the hard-edged, honest autobiographical style that made him famous, they shouldn't. If anything, Titus the New Father is even harder on himself now than when he was Titus the Son of Crazy People.

"Having your first baby is like having your first car," he says. "You love it. You can't believe it's actually yours. But you still end up putting some dents in it. So, I'm going to talk about how I endangered my kid's life. That's a good story."

But is it funny?

"Sure," says Christopher Titus. "Everything's funny."
---
Christopher Titus performs Dec. 26-29 and Dec. 31 at the Improv, 62 S. Second St., San Jose. Times, prices and packages vary; tickets are $23 to $65 and available by calling 408.280.7475 or online at www.improvclubs.com.
---
---
Send a letter to the editor about this story to letters@metronews.com.
---
[ Silicon Valley | Metroactive Home | Archives ]