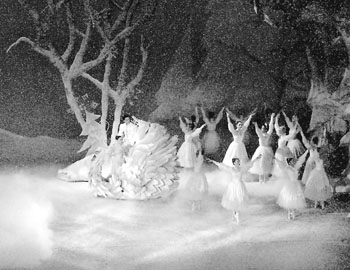 Swan Flake Ballet San Jose's 'Nutcracker' dancers take a twirl in the snow.

Sweet Gestures

Ballet San Jose's 'Nutcracker' fulfills seasonal urges with tasty panache

By Julia Chiapella

IF THE HOLIDAY SEASON isn't complete without some traditional confection, Ballet San Jose Silicon Valley's production of The Nutcracker should cure the sweet tooth. It has all the merriment, revelry and unabashed indulgence in the saccharine to bring on an abundance of seasonal cheer. What's more, it's better than last year. Moving from the San Jose Center for the Performing Arts to Flint Center in order to ensure a continuous 20-performance run, Ballet San Jose has commandeered the space to maximize the sense of the theatrical. From the oversized sculptures of the Mouse King and Nutcracker outside the center to the delivered pastries and drinks that can be had in the highest-priced "box" seats, the company has made it their mission to heighten the effect of The Nutcracker Experience.

This "experience" is further graced by an abundance of commendably vibrant dancing. More than a year after the demise of its sister company (the Cleveland Ballet), Ballet San Jose has added new dancers and tightened the ranks. The result is a tauter, crystallized company with a strong sense of technical mastery. Working from artistic director Dennis Nahat's 1979 version, the production's immense theatricality is put to good use at the Flint Center. David Guthrie's costumes and scenery, exquisite as they are, are the tried and true staples of prior years, but they're given a new luster in the Cupertino venue.

Opening night featured Maria Jacobs and Ramon Moreno in the roles of Maria and her Nutcracker Prince, and they complemented one another with an innate sense of grace. Jacobs is a lissome ingenue with a capacity for concise footwork. Moreno is consistently dependable, executing consecutive jumps with measured, articulated skill. That he can do all this in the cumbersome attire of the Nutcracker is more than proof of his talent.

Offering up the Grand Pas de Deux as the Tsar and Tsarina for this performance were Stephane Dalle and Sayaka Tai. Tai was technically flawless though a bit cool in delivery, and Dalle, while unremarkable on his own, usually does some of the finer partnering in the company, though he and Kai were slightly off in this performance. Nonetheless, their series of classic fish dives were executed with confident aplomb, rousing the audience into a fury of applause.

Nahat himself as the affably bombastic Godfather Drosselmeyer provides the anchor for Act I, using his generous pantomime skills to set the stage for an evening grounded in the fantasy of a dream. Willie Anderson brought a well-executed flare to his role as the Mouse King. With the Ballet San Jose Silicon Valley orchestra doing justice to Tchaikovsky's score, The Nutcracker demonstrates that not only is the company technically adept, it's clearly functioning at a level way beyond the average.
---
Ballet San Jose Silicon Valley's production of The Nutcracker plays Dec. 20-21 at 7:30pm, Dec. 22-23 at 1:30 and 7:30pm at Flint Center, 21250 Stevens Creek Blvd., Cupertino. Tickets are $26-$62. (408.288.2800)
---