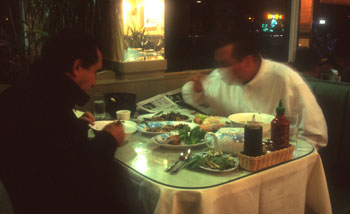 Photograph by Michelle Dudley

Slide On In: Booths abound at this spellbinding Vietnamese diner.

Souped Up On Love

At Pho Saigon, food is the elixir that just might fix her

By Joseph Izzo Jr.

ONE COLD NIGHT last year I went to Pho Saigon, bundled up and worried. My wife was ill and nothing the doctor prescribed seemed to help. Vietnamese food is delicious to eat, but it also possesses medicinal properties that have launched many friends on the path to healing. It had worked for me; maybe it would work for her too.

On that Tuesday, Winchester Boulevard had the appearance of a ghost town. There were few people in the restaurant. I remember a couple somewhere in the back, talking in low voices.

Mai Dam, the owner, was on station as usual, going through paperwork at the front desk. I placed my order: pho with chicken, full of noodles and broth. She smiled, then commented to me about the importance of love between mates, and how vital it was to take care of each other, feed each other. In doing so, she went on to say, love continues to grow and flourish throughout our lives. I listened to this woman, spellbound by her concern, her sincerity, and her philosophy of life and love--advice I've recalled in hard times ever since. I've been reviewing restaurants a long time and have never heard eloquence quite like this.

Pho Saigon reflects a humble nature, stripped of ornament, basic and functional. It's a diner, in essence--a place where booths abound, where I like to eat, gab, get out fast, catch a movie before or after, or just go home and hunker down. If it wasn't for the bamboo shades, the food, the name of the place, Pho Saigon would be hard to peg as a Vietnamese restaurant.

The menu lists dishes from all three regions of Viet Nam, south, north and central. The most popular are the noodle soups called pho, served to the brim, always piping hot in big bowls with a side plate of fresh basil, beans sprouts, sliced hot pepper and lime. My favorite--the one I took home that chilly night--combines chunks of fresh chicken breast in a curative liquid seasoned with onions and cilantro for a reasonable $5.75. I've also spooned the House Special ($5.75) full of lean red meat (round steak, brisket, and skirt flank) in a similar wholesome broth.

Before, with, or after the soups, a plate of vegetarian spring rolls ($3.25 for 2; $5.95 for 4) extends a meal in a gentle way without major dietary overload. Tofu, lettuce, mint, bean spouts and vermicelli are folded into handy cylinders of slightly adhesive rice paper. Peanut sauce comes on the side for dipping. Last visit, we had the combination appetizer of deep-fried imperial rolls (with hot and tangy fish sauce), prawn wonton, and chicken satay fragrant with coconut milk.

Though soup is the most popular item here, Pho Saigon prepares other dishes with textures and flavors of exquisite complexity. Basil, tamarind, garlic and lemon grass are used often to palate-awakening effect. I gravitate towards any dish concocted with basil or lemon grass, the basil chicken ($6.95) my favorite. The meat, boneless and cut into pieces, arrives in a pan gravy so loaded with basil I can smell it en route to the table. Sauces using lemon grass are also rich and delicious, but subtler in flavor.

This last visit we also went to work on two chef specialties listed at the front of the menu. The sautéed eggplant ($6.95) evidenced a talented kitchen able to create sauces full of flavor without complication--here, a marriage of natural juices with onions and coconut curry. Jumbo river prawns ($9.95) literally filled the plate with their size. I savored the ample shellfish penetrated by pungent, but not overwhelming, garlic sauce. My guest pushed it aside, complaining that the prawns were too fishy. I did not agree. So for me, it was a feast.

Sliced mango over sweet rice ($2.50) with coconut milk instilled peace and quiet to digestion. We consumed it without blinking.

Pho Saigon touches the palate and the heart with the soft hands of a nurturing mother. Nothing fancy or exotic. The food, especially those soups, promotes good health with clout enough to chase microbes into the ozone and place the flu bug on notice. My wife survived that night and is still kicking. I don't know if it was the soup, but I wouldn't bet against it.
---
Pho Saigon
Address: 826 S. Winchester Blvd., San Jose
Phone: 408.244.2528
Hours: Lunch 11am-3pm Mon-Thu; dinner 5pm-9:30pm Mon-Thu; 11am-10pm Fri-Sat
Cuisine: Vietnamese
Price Range: $5.75-$17.95
---