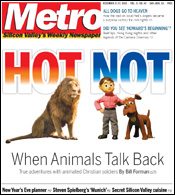 For the Week of
December 21-27, 2005
Cover Story: When Animals Talk Back:
True adventures with animated Christian soldiers.
News: All Dogs Go to Heaven:
The story of the SJ police raid on Hell's Angels has gone from gruesome tragedy to civil rights victory.
The Fly: The verdict in the Michael Walker trial angers supporters of Walker's shooting victim, Rudy Cardenas.



Silicon Alleys: The Secret Steinholders.
Techsploits: Best. Monster. Ever.
Rev: Ford said that the Volvo portion of the company will continue to advertise in the gay media. It seems like a smart move to market to gay people, considering that the gay market is actually very family oriented, thank you.



Lights, Camera, Action!: As they celebrate their 30th year as Silicon Valley's maverick movie houses, the Camera Cinemas have become the stuff of local legend .
Payback: Hit men track down the Olympic killers in Steven Spielberg's 'Munich.'
Nude Brood: Judi Dench and Bob Hoskins star in 'Mrs. Henderson Presents,' a story of how toplessness won the war.
Citizen Lane: The film version of the hit(ler) musical, 'The Producers,' is an old joke trying to look new.



Cover Me: Are Bay Area tribute bands even better than the real thing?
So Last Year: 2005: The Good, the Bad and the Ugly.



Book Box: 'Flashman on The March' and 'Georges Braque: A Life.'



Psst! Eat At Gochi: The owners may prefer to keep it under wraps, but you won't find anything quite like it.
Live Feed: News Flash: Junk Is Junk!
5 Things: Candy Canes.



'The Nutcracker,' a Long View: Ballet San Jose Silicon Valley's holiday classic looks brand-new from a distance.



Please don't forget to write! Metro welcomes letters. Like any great work of art, they should be originals — not copies of letters sent elsewhere. Include address and daytime phone (for verification purposes only). Letters may be edited for length and clarity or to correct factual inaccuracies known to us. Postal: Metro Letters, 550 S. First. St., San Jose, CA 95111. Fax: 408/298-0602. Email: letters@metronews.com. Emailers, please include name, city of residence and phone number. Letters printed will list email address unless otherwise specified. Letters to the editor are not currently published in the online version of this paper.