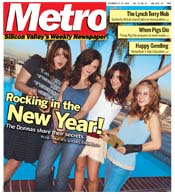 For the Week of
December 22-28, 2004
Cover Story: Rocking in the New Year!:
The Donnas share their secrets. Plus, parties, shows, dining.
News: Feeding Frenzy
If last week's testimony is an indication, Terry Gregory is a first-class mooch.
Editor's License: The scandal-plagued Gonzales administration discovers ethics.
The Fly: This week's political bites.



Biter: Save The Pig: Another twisted tale of downtown nightlife.
Techsploits: It's never too late to be annoyed by stupid futurism.
Rev: Honk If You Love Noise Pollution.



The Sea Outside: 'The Life Aquatic With Steve Zissou' pilots 'Rumblefish' into uncharted waters.
Learning Curve: Almodóvar goes to the head of the class with 'Bad Education.'
Heart of Gaucheness: 'The Phantom of the Opera' is Pan-Atlantic kitsch at its most robust.
No Me Gusta: The maid cleans up in Adam Sandler's spiceless comedy 'Spanglish.'
A Farewell to Amélie: Jean-Pierre Jeunet and Audrey Tautou remember World War I, try to forget their farcical ways, in 'A Very Long Engagement.'



I Got Next: Joyo Velarde graced many a Quannum single. Now she's out to get hers.
Kitschy Xmas: Director John Waters plays the perfect holiday host.
Club Life: Sunday Jazz Series at the Palm Room at the Hyatt St. Claire.



Young Turk: New Kapadokia keeps Turkish food alive.
Live Feed: Supermarket Strike?
5 Places to Love: Five establishments that serve food and libation hearthside during the California winter.



Cracking Good Time: As much as it stays the same, Ballet San Jose Silicon Valley's 'Nutcracker' evolves.



Please don't forget to write! Metro welcomes letters. Like any great work of art, they should be originals — not copies of letters sent elsewhere. Include address and daytime phone (for verification purposes only). Letters may be edited for length and clarity or to correct factual inaccuracies known to us. Postal: Metro Letters, 550 S. First. St., San Jose, CA 95111. Fax: 408/298-0602. Email: letters@metronews.com. Emailers, please include name, city of residence and phone number. Letters printed will list email address unless otherwise specified. Letters to the editor are not currently published in the online version of this paper.