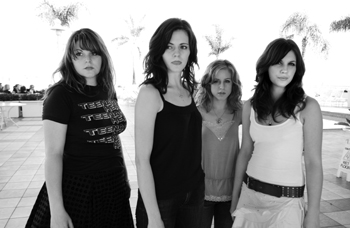 Photograph by Dave Lepori

On and Popping

In 2005, the Donnas blast off into their second decade as a band

By Jim Harrington

THE DONNAS run through LAX to catch a flight to the Midwest for two year-end shows in Kansas City and Milwaukee. The weather is going to suck, especially in Beer City, where the temperature is expected to reach a balmy 35 degrees. The girls operate on just a few hours sleep but, in typical Donnas fashion, they are stoked about munching down some fast food breakfast sandwiches at the airport.

It's always been the little things that get the Donnas excited, be it a cool new James Bond video game or a vintage Ace Frehley doll. But, as they get set to board the plane, they are most excited about the upcoming holidays. For these four 25-year-olds, all of whom graduated from Palo Alto High School in 1997, it will be a much needed break from what has been a hectic schedule to support their sophomore major-label release, Gold Medal.

New Year's Eve has never been that big a night for the Donnas. In fact, drummer Torry Castellano can't remember one Dec. 31 that sticks out. But, this year, Castellano, vocalist Brett Anderson, guitarist Allison Robertson and bassist Maya Ford all have better plans than just eating chips on the couch and watching a tape-delayed ball drop in Times Square.

"Everyone has different plans," Castellano says. "Brett and I are taking a trip to Costa Rica. Maya will be in New York with her boyfriend. And Allison will be going to see Rooney play in California." All of those things sound pretty swell—except that Rooney is playing its NYE gig in Stockton (Robertson is more than a fan; her boyfriend is the guitarist in Rooney).

Looking back at 2004, the Donnas have a lot of reasons to be thankful and proud. They can count their blessings that they are still playing together more than 10 years after their first performance back in eighth grade at Jordan Middle School in Palo Alto.

"Whenever we have an anniversary, we always think about how much time it's been since our first show," Robertson says. "It always kind of feels that it hasn't been very long at all. That's the good part. Nobody feels like it's been half our lives."

With gate changes and white-courtesy-telephone pages being loudly announced from the overhead speakers at LAX, Castellano is having a hard time carrying on a conversation. Plus, she's tired from only getting three hours sleep the night before and that Egg McMuffin is probably sitting like a rock in her stomach. That's life on the road. The Donnas will definitely have to get used to it in 2005 as they spend the first three months of the year touring New Zealand, Australia and Europe. Then it's back to the States for a lengthy spring trek with Maroon 5.

The cell phone is cutting out. With the "season of giving" already in progress, it seems appropriate to end the chat by asking the Donnas what charities they want to shout out.

"We love animals," Castellano says. "We used to practice near an animal shelter and we would go and just hang out there. I think that anything having to do with animals is always very close to our heart."
---
Send a letter to the editor about this story to letters@metronews.com.
---
[ Silicon Valley | Metroactive Home | Archives ]