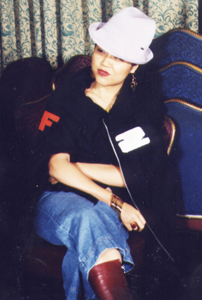 Hats and Jammer: Joyo Velarde's backup vocal on 'Callin' Out' can be heard in a Diet Coke commercial.

I Got Next

Joyo Velarde graced many a Quannum single. Now she's out to get hers.

By Christine Lee

MOST FANS recognize Joyo Velarde as the first lady of Quannum. Her deliriously sweet croon waxed many tracks from the Bay Area hip-hop label that houses Blackalicious, DJ Shadow, Lateef, Lifesavas, and of course, hubby Tom "Lyrics Born" Shimura. Velarde has been touring the underground circuit with most of these acts since 1997 as a backup vocalist, and is featured on such hits like "Balcony Beach," "People Like Me," the single "Callin' Out," and more recently, "Love Me So Bad." But in between 10-hour drives on 12 city tours, she's also been finding time to work on her solo debut. Her album is 90 percent complete, all she needs is some time to add the live instrumentation and tighten up the vocals and beats, and she'll be ready come spring 2005.

According to Joyo, the album will be less hip-hop and more singer/songwriter—she lists as her influences artists from Curtis Mayfield to Minnie Riperton to Jeff Buckley. Her signature "classical" voice is the only thing she is worried about, as the album is inspired from soul and R&B, but she admits that she doesn't have that typical soul voice, as fans that have seen her perform "Sweet Angels" may understand.

"I know I don't have that traditional soul voice and that people may think, she's Asian, she can't sing soul," Velarde says. "But I just hope that the way I interpret and how it sounds will speak for itself."

Fans that have seen her perform "Sweet Angels" know that it's that exact classical feel in her voice (she actually pursued a masters in opera before dropping out because she was "bored to tears") that gives her music a distinguishing, stunning purr. It's like mixing french fries and ice cream—doesn't quite roll off the tongue but rocks the hell out of your unsuspecting palate. And with Lyrics Born heading up the production, it looks like Joyo's drop is a can't miss.

Coming off the success of LB's solo album Later That Day, as well as exchanging some wedding vows early last year, the sleep-deprived newlyweds have been touring all across the states and preparing for what they dub the "Mommy Tour" in Australia early next year.

"We're really excited because we'll finally get to have our honeymoon, and then our moms will come out and meet us when we start the tour," explains Joyo. On the road, the twosome use the long drives to flesh out the details of her album and his future projects, while also just enjoying touring as husband and wife. "As far as balancing the big picture, we're a team, and I'm doing everything I can to help him get his stuff going and contribute. I mean, I know we're so lucky, to be doing what we love doing, and traveling and working together. So I try not to complain."

But a sense of wistfulness creeps into her voice, that pondering of what is to come once her solo album is released. It's been a long time coming, and what once was impatience has been replaced with an acceptance of how things work themselves out. "There was a few years ago where I was really frustrated, I thought, people will think that I'm just talk and that I'm not doing it," she admits, "but I've come to accept that things happen when they are supposed to happen. [Tom's] stuff had to come first before he could take care of my stuff, and now that he's taken care of his business he's ready to take on us."

Rather than seeing their careers as separate goals, she sees it as an intertwined path, where his success is just as much her success, and vice versa. And while she's thankful for his recent success, she's ready to come into her own. "I've learned the art of timing, the lesson of patience, and the need to wait for the right vibe. And I've grown to believe in that. But I'm still going to do everything I can to make it happen."
---
Joyo Velarde and band perform Thursday (Dec. 23) at Agenda Lounge, 399 S. First St, San Jose. Tickets are $7 and doors open at 10pm.
---
---
Send a letter to the editor about this story to letters@metronews.com.
---
[ Silicon Valley | Metroactive Home | Archives ]