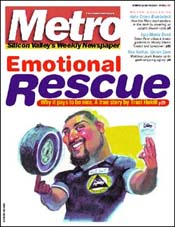 For the Week of
December 23-29, 1999
Cover: Driven to Kindness
What's the story with people who stop to help stranded motorists out of the goodness of their hearts? More than you might think.
News: Hate Crime Bombshell
Thanks to repeated media reports, most valley residents can tell you almost everything about the hate crime against Judge Jack Komar this past summer. Almost. Plus: Metro managing editor Corinne Asturias on hiding from hate.
Sunnyvale: Lakewood spirit lights up the night.

Cupertino: Library thief used fake ID to check out $5,000 in CDs.

One Nation, Under Dom: Mistress Laurie fesses up to geek-whipping agony.
Public Eye: Twins separated at birth? Expansionistas ready for campaign take-off. Mr. Roberts gets drunk and goes to jail.



Box-Set Boogie: New jazz, rock, and folk CD collections hit the music stores.
The Frog That Could: Christina Alexander leads Little Tin Frog to best-of-bill honors at WORKS.
Aural Fixation: Local bands tore up the weekend of clubs.



Woody's Tin Eras: Woody Allen's 'Sweet and Lowdown' mixes the hot jazz of the '20s with the stiff morals of the '50s.
Maternal Instinct: In Pedro Almodóvar's 'All About My Mother,' women can win respect and yet be completely undignified.
Greene Party: Viewers have to take Neil Jordan's 'The End of the Affair' on faith.
Italian Masquerade: Matt Damon gives chilling performance in 'Mr. Ripley.'
Busted Play: Stone drops the ball with 'Any Given Sunday.'
Space Cases: A motley crew of actors tour the stars.



Under the Influence: Want some work with those drugs?



They Like Mike's: Odd orthography aside, regulars are still spellbound by Mike's Xlint Foods.
A La Carte: Giovanni's in Santa Clara is more than a place to dine.



Please don't forget to write! Metro welcomes letters. Like any great work of art, they should be originals -- not copies of letters sent elsewhere. Include address and daytime phone (for verification purposes only). Letters may be edited for length and clarity or to correct factual inaccuracies known to us. Postal: Metro Letters, 550 S. First. St., San Jose, CA 95111. Fax: 408/298-0602. . Emailers, please include name, city of residence and phone number. Letters printed will list email address unless otherwise specified. Letters to the editor are not currently published in the online version of this paper.