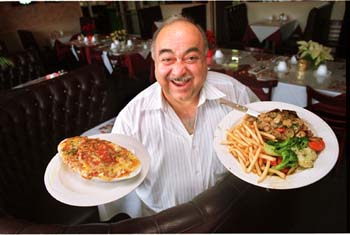 Photograph by George Sakkestad

Bigger Is Better: Mike Xenos doesn't stint in portion size on such hearty dishes as steak and lasagne.

They Like Mike's

Odd orthography aside, regulars are still spellbound by Mike's Xlint Foods

By Joseph Izzo Jr.

WHEN IT FIRST OPENED it was called Mike's Xlint Foods. My friends and I were appalled by the misspelling, but it got our attention, I will say that, enough for us to take the bait and step inside. The kitchen served Greek, Italian and American dinners, opened early for breakfast and dealt lunches seven days a week.

We went for dinner that first time, had Spaghetti a la Caruso, a steak, some pork chops with baked potatoes and vegetables, plus soup, salad and dessert thrown in for the price. On the way to the car, picking our teeth like big shots, we forgot all about the spelling error. Having a full belly will do that.

It didn't take long for Mike's to take off--like a rocket--in the '80s. People loved the joint--the food, the prices, the portions. It did so well that upstarts in the business began to clone the idea, forcing the owner to rename his establishment: The Original Mike. And why not? He was the first in the area to popularize this improbable amalgam of multiple cuisines--and to make it work.

Although the name "The Original Mike" still appears on the menu, the sign on the exterior of the building reads Mike's Café. But to me it will always be Mike's Xlint Foods, still the dependable eatery I first knew, where hard-working people and families--including seniors on fixed budgets--can get a square meal at a decent price. That's not easy to come by these days, in a valley where the value of money has lost all meaning, where having a million dollars isn't quite enough and where owning a BMW is no big deal.

I used to come here nearly every week for breakfast, early, just as it opened. I'd get a table with a view of Bascom and contemplate the ebb and flow, while downing eggs and sausage, and huge flapjacks soaked with syrup. The coffee was good and nobody rushed me.

In the afternoons I'd stop by (still do) to watch baseball in the company of people who appreciated the game: Mike's stalwarts. Like me, his patrons continue to come here, year after year, some almost every day, just to have a bowl of fresh-made soup and exchange a few insults with the owner. It's fun to just listen to all the nonsense, to the stories, some of them absolute fabrications, others very serious accounts, like the one about Joe DiMaggio and the bone spurs that nearly ended his career.

One can't help but be drawn to this establishment. People are as fond of the waitresses as they are of the owners; they're a doozy of a bunch--women from all walks of life, with personalities so varied and off the wall they defy description.

Still, Mike's is not as popular as it once was. Surviving the competition takes its toll. But it remains a going concern and for good reason: personality. There really is a Mike after all--a stout, jolly Greek with huge forearms--daily working this place like a man who knows nothing else.

AS THE '90S COME TO A CLOSE, Mike's hasn't really changed much. The restaurant still serves great breakfast, affordable lunches (with a lineup of delectable burgers) and dinners that continue to include soup and salad, as well as dessert. Some of the dishes are gems, some not so lustrous, but that's OK. You always get plenty to eat and the prices won't break the bank.

The dining room is a comfortable space full of button-tuck booths divided by streamlined Deco-style glass partitions. There's a full bar with four, maybe five, stools, and a meager wine list that features a rugged table white from Greece called Demestica.

This visit, my guests and I deliberately chose emblematic dishes representing Mike's best efforts, and struck gold with most of our choices.

The Greek salad is a good opener to divide, but this night we favored the Horyiatiki Salad ($7.50) because it's considered very traditional. Known as a "village" salad, this first course contains no lettuce but consists of cucumbers, green pepper, tomatoes, Kalamata olives, sharp feta and boiled egg. The dressing, though somewhat thick, had enough vinegar (we suspected balsamic) to balance the consistency.

A variety of soups came next, our favorites the clam chowder and the chicken noodle. They were all fresh-made and full of flavor.

As for the entrees, the sauteed sliced steak ($9.95) pleased all of us that night. Slices of tri-tip browned in garlic were simmered with mushrooms in a rich brown sauce full of wine.

Spaghetti a la Caruso ($10.75), a charter member of the first menu (and once made with chicken livers), now uses chicken breast sauteed with garlic, onion, mushrooms and green peppers, then blended with Mike's meat sauce--the same one he uses on his spaghetti. Although I prefer the strong flavor of the chicken livers (so does Mike), this altered recipe earned favorable marks--in spite of its concession to Anglicized tastes.

The next two dishes sparked debate about the nature of cream sauces. Some people like them, we all agreed, while others do not. I'm one of those who prefers sauces without cream, but this is not to say that a cream sauce isn't good. It's a simple matter of preference (or tolerance) for rich food.

Between the sauteed chicken breast with artichokes ($10.95) and Mike's famous chicken fettuccine Alfredo ($10.95), the chicken with artichokes won out. Both were thick and creamy, but the marinated artichokes eased the richness, whereas in the Alfredo the cream was overwhelming.

Remember, dessert is still included with the dinner at Mike's. Because there were four of us, we tasted every one offered. Of the four we spooned, the rice pudding and the spumoni hit the spot, especially the rice pudding. As for the chocolate pudding, well, give it to Bill Cosby.

The Original Mike's Café and Xlint Foods--whatever it's calling itself this week--remains a family owned and operated diner, not some corporate chain pushing food like automobile parts. The recipes are cleaved from the heart, not the textbook. They're not the best, but they're not bad--some are even great. It's hearty diner fare, let's face it. Prices are reasonable, portions are big; you get what you pay for. No tricks.
---
Original Mike's Café
Address: 905 S. Bascom Ave., San Jose
Phone: 408.294.3456
Hours: Mon.-Thu. 7am-9pm, Fri.-Sat. 7am-9:30pm, Sun. 7am-8:30pm.
Cuisine: Diner specializing in Greek, Italian and American fare
Prices: $3.75-$10.50
---
[ San Jose | Metroactive Central | Archives ]