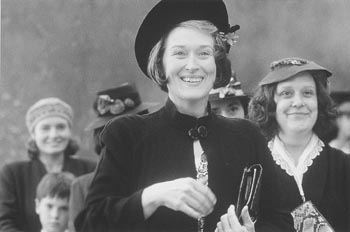 Jonathan Hession

Streep Show: Meryl Streep does her duty in 'Dancing at Lughnasa.'

Pat O'Connor's 'Dancing at Lughnasa' takes a gander at Irish country life

YOU'VE HEARD of that illness that comes from practicing foreign accents: Streep throat? In the Irish film Dancing at Lughnasa, Meryl Streep courts her namesake malady as Kate, the eldest sister in a clan of five unmarried women in the Irish countryside. It is the summer of 1936, and the Mundy sisters are supported by Kate's school teaching and the knitting of sweet, simple-minded Rose (Sophie Thompson). Sister Christina (Catherine McCormack, late of Dangerous Beauty) erred once; the result is an illegitimate child, Michael (Darrell Johnston), who serves as our narrator, warning us that the Mundys' idyll is doomed: "Little did I know it, child that I was, that things were changing, quickly, too quickly."

As we join the Mundys, their Uncle Jack (Michael Gambon) has returned from 30 years as a missionary in Africa. He's a bit cracked and pagan, reminiscing about the rituals the medicine men performed in the jungle. Also returning is Michael's wandering father, Gerry Evans (Rhys Ifans), who is full of plans to do "a spot of fighting" in Spain. Amid the croaking of rooks and the clucking of chickens, the Mundys spend a summer picking blackberries, yearning and facing up bravely to life.

Director Pat O'Connor's film is superlatively stodgy. In tasteful memory plays such as these, the Irish fulfill the same dramatic purpose that Southerners do in the American theater. These stage Irish are chaste, conservative, religious; nothing budges their beliefs, and they do their laundry on washboards. Brian Friel's play, on which the film is based, must have been a hit because of its maiden-aunt's reveries of a country life doomed by mass communications, the war and the exodus to the cities. I empathize with the fantasy of quitting the city to go whitewash a cottage, but it's Gambon's character, representing a sensual world beyond the ken of these crofters, who is the most fun. Watching Gambon, malarial in his bed, is a reminder of his great performance in The Singing Detective.

Streep, in her Betty Crocker coiffure, is as antiseptic as ever. Her Kate is a schoolteacher, nicknamed "The Gander" because of her bossiness and her habit of sticking her beak into other people's business. Streep, however, doesn't evince the superior person's sense of comedy, the grim satisfaction in finding people no better than they ought to be. Every teacher harbors some secret enthusiasm, but Kate is all sacrifice, even during the summer holidays. Kate's a perfect character for Streep. Her responsibilities to the audience always show; she carries them out dutifully, growing careworn in our service. I don't mean to deride the high quality of Streep's great, dogged technique, but maybe the ominously middle-aged tendency in her acting could be lifted by a flash of disdain, by an ounce of ganderish silliness instead of just pounds of ganderish pride.
---
Dancing at Lughnasa (Unrated; 92 min.), directed by Pat O'Connor, written by Frank McGuiness, based on the play by Brian Friel, photographed by Kenneth MacMillan and starring Meryl Streep and Michael Gambon, opens Thursday.
---
[ San Jose | Metroactive Central | Archives ]