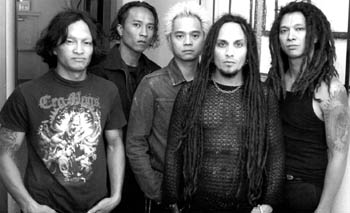 Death Angel spreads its wings.

Death Angel Rides; So Long Kleidon's

New Year's Eve rings in reunion for thrash-metal legends; another club bites the dust

By Sarah Quelland

AFTER A SPECIAL REUNION in 2001 for the Thrash of the Titans benefit for Testament's Chuck Billy, a handful of "secret" reunion gigs and a spot on the 2002 Dynamo Open Air Festival in Holland, the Bay Area's legendary thrash-metal outfit Death Angel is officially resurrected. More than 10 years after disbanding, the group is celebrating its rebirth with a New Year's Eve bash at the Pound with Old Grandad, Mad at Sam and Alter Ego. This comes as great news for longtime fans. With vocalist Mark Osegueda, lead guitarist Rob Cavestany, drummer Andy Galeon and bassist Dennis Pepa returning, Death Angel's original lineup is missing only rhythm guitarist Gus Pepa (Ted Aguilar, most recently of S1FT, is filling that position).

The members of Death Angel were teenagers when they took the world by storm in the '80s with their Kill as One demo (produced by Metallica's Kirk Hammett) and subsequent albums The Ultra-Violence, Frolic Through the Park, Act III and Fall From Grace. Now in their 30s--as anyone who's seen Osegueda, Cavestany and Galeon in Swarm (which is on indefinite hiatus) can attest--these guys are in their prime. Today's Death Angel is bringing new perspective to songs from its old catalog. With the experience and wisdom that comes with age, guitarist Cavestany says, "I think we play much more soulfully [now]. We always used to put our heart and soul into it, but it was driven by a different type of energy. I think our songs are tighter and heavier in a different way [in] how we play it now."

They're preparing to write new material that remains true to the original Death Angel sound. "I think there's a couple ways that it will for sure," Cavestany muses. "It's the same musicians that will be writing and performing the stuff. Our styles individually and collectively--the chemistry that we make playing together--will sound like us, 'cause it's us playing." He adds, "We're gonna write really heavy on purpose. That's what people are looking for, and we've got plenty of that in us."

Already, Death Angel is planning to perform in Chile in January and is confirmed for the No Mercy tour of Europe (with Testament and others) in April. No one's more surprised than Cavestany. "This is nothing short of a miracle to us," he says. "It was really never our intention to do any of this. It's kinda freakin' me out, to be honest. We're looking at that, and the new year hasn't even started yet."

Check www.death-angel.com for updates.

ANOTHER ONE BITES THE DUST: When the Cactus Club shut its doors in June, Kleidon's Lounge jumped at the chance to become the venue of choice for all the local bands and music fans displaced by its closure. Kleidon's weekly Rockstars and Bitches night saw the best local musicians rock its stage every Monday. That's all over now. On Dec. 17, Kleidon's shut its doors. Bill Kleidon was unreachable for comment at deadline, but Johnny Van Wyk, who oversaw daily operations, says he expects the bar will sit vacant indefinitely. Van Wyk is moving forward with plans to open two new clubs in downtown San Jose. He says Sideways (the name is now tentative) is still a go. The building is being retrofitted, and Van Wyk hopes to open by summer 2003. His latest acquisition, Johnny V's (31 E. Santa Clara St.), may open as soon as Jan. 31. Johnny V's has a pub downstairs and a nightclub upstairs. No bands will be able to play there until he gets a new sprinkler system put in, which he says will take four to five months. In the meantime, he plans to host DJ nights. In other good news, Rockstars and Bitches has relocated to Plant 51. Monday (Dec. 30), Something Must Die, Beneath the Surface, Taunted and Borderwars perform.

BYE-BYE BURBANK: Stikmon has announced that he will not be able to establish the Burbank International Youth Center for the Performing Arts after all. He says bureaucrats dragged their feet so long in making a decision that building owner Denton Coetzee decided to rent the building to a television station. Though discouraged, Stik says, "I'm not giving up. I'm gonna find another spot."
---
Send a letter to the editor about this story to letters@metronews.com.
---
[ Silicon Valley | Metroactive Home | Archives ]