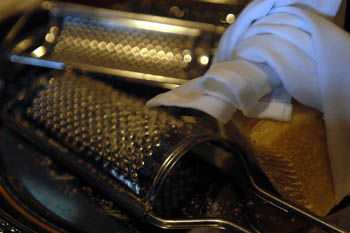 Photograph by Paul Myers

Union Square Meets Los Gatos: And the result is big food in a big setting

Ready, Set, Glow

Adding to its bounty, Los Gatos scores again with its very own Kuleto's tucked into a new luxury hotel

By Christina Waters

WARM, LAID-back, yet just opulent enough to entice even the most reluctant bon vivant out into the night, the new Kuleto's Los Gatos re-creates all the power of its original Union Square, San Francisco, concept. Here, reflected in the amber glow of mezzaluna ceiling sconces, are offered up the fruitiest olive oil and the softest bread. Sheets of copper line the lively exhibition kitchen, while the spacious booths provide aid and comfort to South Bay diners.

Add to all this an exceptional wine list of top-ranked Italian and California showpieces, and the gleam of hardwood against Persian carpets, and our eyes are made happy. Without getting into Architectural Digest territory, Kuleto's--echoed across the courtyard by the elegant reception area of its adjoining hotel--looks exactly right. Tasteful, rich and nontrendy. The good news is that the food easily keeps up with the décor.

Carol and Ray, famished from the rigors of rush hour, helped me consume a beautiful antipasto misto that was long on lean prosciutto, slender hearts of lemon-drenched artichoke, exceptionally pungent mixed olives, crunchy snap peas and succulent mounds of fresh buffalo mozzarella ($10). A crimson bouquet of roasted red peppers and earthy salami did its best to get my attention, but only Ray succumbed. Accessible rather than daring, the appetizer flavors set the stage for our main courses.

Stage right, Ray set the tone with an unapologetically guy order of Black Angus New York steak ($22), a man-sized slab of truly delicious beef glazed with a complex Chianti sauce. The steak came rakishly perched on a modest, rather than overpowering, cushion of porcini-infused potato gratin and a few spears of broccoli rabe. The bitter greens cut perfectly through the beefy richness.

My lavishly flavored entree of veal scaloppine had been finessed piccata-style, with lemon, capers, toasted garlic, white wine and, of course, butter ($22). It was stupendously tender, generous (three large slices) and provided my taste buds with a quick tour of northern Italy. The dish was enhanced by a cushion of the garlicky mashed potatoes (I always associate Kuleto's with the aroma of browned garlic) and a fresh mound of wintery spinach.

Carol's skewer of scallops--so large they practically had college degrees--had been grilled with lots of rosemary, and that quintessentially Mediterranean herb perfumed not only the plump shellfish (did I say these were enormous? Two inches across!) but also a delicious side "hash" of fingerling potatoes, bacon and mushrooms ($21). These stupendous entrees easily lived up to the Kuleto's reputation for big flavors and appealing presentation.

Espresso seemed like the wisest plan to finish up our flavor-intensive meal. This place is so good-looking that even a simple glass of fine California chardonnay was all the excuse many locals needed last week to park themselves at the polished dark-wood bar and watch the action while chatting up the cute and friendly bartenders.

Carol and I let Ray set the dessert tone, which meant chocolate. The three of us shared a fantasy chocolate mousse creation that involved a dense dark-chocolate torte, lightly tinged with raspberry, as well as a decadent scoop of chocolate-chip mint ice cream on a tiny nest of spun something that resembled (in the nicest possible way) micro shredded wheat. Fat raspberries topped this rich dessert, while little streams of white and dark chocolate swirled around the plate.

Another choice--creamy zabaglione heavily infested with tropical fruit, proved much too sweet to satisfy adult taste buds, though it looked great served in its glamorous martini goblet (both desserts $6.25).

In the end, we were impressed big-time with the new Los Gatos installment of Kuleto's. This Bay Area restaurant group has got its act down, from glamorously comfortable décor to exceptional staff performance. Our server was swift, responsive, knew the menu well and was gifted with perfect timing. We'll be back.
---
Kuleto's
Address: Hotel Los Gatos, 210 E. Main St., Los Gatos
Phone: 408.354.8290
Hours: Lunch 11:30am-2:30pm daily; dinner 5-10pm daily
Cuisine: New California/Mediterranean
Full Bar
---
---
Send a letter to the editor about this story to letters@metronews.com.
---
[ Silicon Valley | Metroactive Home | Archives ]