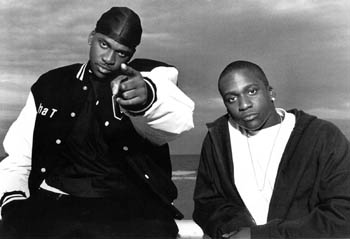 Photograph by Clay Patrick McBride

Point Taken: Clipse's 'Grindin'' was the jam of the year.

Summer Jam

Hip-hop in 2002 was one long summer anthem

By Todd Inoue

HIP-HOP has always monitored the pulse of the street, and in 2002, forecasters predicted a return to rap's glory days. Some thought that there could be a return to consciousness, but whatever deep meaning and emotional complexity post-9/11 hip-hop was rumored to bring got held up at customs.

Turns out that 2002 was the Year of the Summer Anthem--those peculiar songs dominated by themes of wealth, power, status and sex, agitated by bass lines that elevate blood pressure and by lyrics that give parents fits. In order:

"Grindin'"
Artist: Clipse
Producer: Neptunes
Sample Line: "Grindin' cousin, I got hoes by the dozen / Even 11-five, if I see ya keep it coming / And my weight, that's just as heavy as my name / So much dough, I can't swear I won't change."
Analysis: Virginia brothers in rhyme Malice and Pusha T sat on the shelf for a couple years before striking a wealthy payoff: Lord Willin', an album produced by their old friends the Neptunes. The duo digs into the Neptune's platter of cosmic bling beats, elbows akimbo. "Grindin'" shows the Clipse spitting over a spare beat downloaded from a Saturn cafeteria table. Clipse narrates the hustling life in a cool calculated fashion that would make Iceberg Slim lift a knowing eyebrow. "Grindin'" is pure nostalgia, an uncut street anthem of purist quality, the "We Will Rock You" of 2002.
---
"Hot in Herre"
Artist: Nelly
Producer: Neptunes
Sample Line: "So take it off like you're home alone / You know, dance in front your mirror while you're on the phone / Checking your reflection and telling your best friend / like 'Girl I think my butt getting big!'"
Analysis: Right after 9/11, Nelly and the orthographically incorrect "Hot in Herre" were ridiculed and pointed to as an example of hip-hop's declining influence in shaping popular opinion. It was so glossy, un-PC and about nothing except disrobing that it was the hit that everyone craved. People responded by putting "Hot in Herre" in heavy rotation in every city and on every dance floor, reciting the lyrics as easily as the Pledge of Allegiance. Absolutely inescapable and a responsible parent's guilty pleasure and worst nightmare.
---
"Work It"
Artist: Missy Elliott
Producer: Timbaland
Sample Line: "Not on the bed, lay me on your sofa / Call before you come, I need to shave my chocha / You do or you don't or you will or you won't cha / Go downtown and eat it like a vulture."
Analysis: Just when Nelly had everyone convinced "Hot in Herre" was the summer anthem of 2002, Missy dropped this tribute to bikini waxing and backdoor pleasure. Using Blondie's "Heart of Glass" disco-ball intro as a heartbeat, Timbaland's robotic funk track tickled the innards with elements like a rewound voice as part of the hook and a splice of Run-D.M.C.'s "Peter Piper" at the close. Meanwhile, Missy completes her obscene phone call, speaking in tongues one second and barking out orders the next. Khia may win the award for most provocative song (the cunnilingus lesson "My Neck, My Back"), but "Work It" succeeds on many more levels; it's a song that--like Krispy Kreme doughnuts--goes straight to the ass and hips.
---
"Move Bitch"
Artist: Ludacris
Producer: Jazze Pha and KLC
Sample Line: "I'm DUI, hardly ever caught sober, / and you about to get ran the fuck over"
Analysis: Ludacris and Mystikal suck on diesel exhaust and shout out a new 'bow-throwing classic. It's technically a 2001 release, since it came out in December, but Luda's salty marching orders achieved maximum velocity during summer 2002 when the song was adopted as the unofficial anthem of gridlocked commuters everywhere. It has since morphed into a popular locker-room motivator and, most recently for the Golden State Warriors, entrance music.
---
"Nothin'"
Artist: N.O.R.E.
Producer: Neptunes
Sample Line: "I'm like a hammer that you hold on your hand; I make hits / At the white-boy club while I'm buying the bar / They like, 'Hey now, you're an all-star.'"
Analysis: A great song about squashing beef with just the right patronizing tone. Victor "N.O.R.E" Santiago gets bonus points for referencing local pop rockers Smash Mouth and Adebisi, the imposing thug from the HBO prison series Oz. Alternately infuriating and hilarious.
---
"Oh, Boy"
Artist: Cam'ron
Producer: Just Blaze
Sample Line: "Until that man is vanished / Away in the Grand Canyon, these kids are grandstanding / Niggaz demand ransom over them grams scrambling / Well, fuck it, Van Damme 'em, Cam'll blam blam 'em."
Analysis: The guiltiest pleasure of the year, "Oh, Boy" is a slick street anthem, barely trickling along, attitude chill enough to freeze Prestone. If there was any doubt that the East Coast had left the hit making to the West or South, "Oh, Boy" changed that tune.
---
"Still Fly"
Artist: Big Tymers
Producer: Jazze Pha/Mannie Fresh
Sample Line: "Gator boots with the pimped-out Gucci suits / Ain't got no job, but I stay sharp / Can't pay my rent, 'cause all my money's spent / But that's OK, 'cause I'm still Fly."
Analysis: Leave it to the blingingest, ballingest crew to transpose a sea chantey into a platinum-card diary. Captains Mannie Fresh and Baby sings the pay-balance-in-full-or-suffer blues while Jazze Pha hijacks a Galaxian spaceship, customizes it with jackhammer shocks and hoo-rides through the solar system. The trio swooshes back to Nawlins as intergalactic superstars with maxed-out bank accounts. The girls pass them by, but that's OK, "'cause I'm still fly."
---
"Say I Yi Yi"
Artist: Ying Yang Twins
Producer: Carl Mo
Sample Line: "All in the booty club, shorty shake it for the dub / High as a kite, so I'm might, stick yo' ass a lil' something / Make that pussy pull a blunt."
Analysis: This track from the Ying Yang Twins came and went faster than a nervous john. The tear-the-club-up anthem "Say I Yi Yi" practically careens out the CD deck, propelled by a warp-speed bass beat and a gravel-throated nursery-rhyme hook. As the Twins cashed in on their brief one-hit-wonder fame, the world of table dancers rejoiced in a new (albeit brief) anthem. And how can you miss with a chorus that is basically a pole-dancing tutorial?
---
Send a letter to the editor about this story to letters@metronews.com.
---
[ Silicon Valley | Metroactive Home | Archives ]