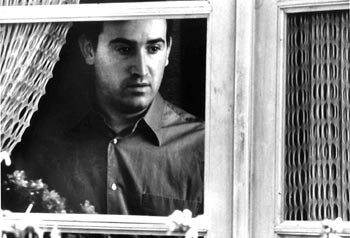 The Conversationalist: Javier Cámara plays a nurse with terrific bedside manner in 'Talk to Her.'

Sleeping Beauty

Almodóvar strikes again with a beautifully weird romance

By Richard von Busack

A GOOD NURSE named Benigno (Javier Cámara) tends a comatose woman named Alicia (Leonor Watling), bathing her, styling her hair and changing her various pads. This helpful, apparently neuter fellow talks to his patient, certain that her spirit understands. The title Talk to Her comes from this scene of tender care. Benigno's solicitude is contrasted with the bad treatment endured by the noted bullfighter Lydia Gonzales (played by flamenco dancer Rosario Flores), who was humiliatingly and publicly discarded by her lover, the studly matador "El Nino de Valencia."

The matadora, who is shunning all press, is rescued from a bar by an enigmatic journalist, Marco (Darío Grandinetti), with a suave line: "I know nothing at all about bullfighting but a lot about a desperate woman." Months later, Lydia, newly happier, but still weakened by her secrets, loses a bout with a bull; she ends up in the same hospital where the untenanted body of Alicia lies. Now Benigno and Marco tell each other their stories, discussing types of love and types of women as we go back and forth in time.

This immensely lovable and utterly unpredictable import shows Pedro Almodóvar at the top of his game. It's a warm comedy, considering the macabre elements of felony and suicide. Talk to Her tells of fast, unlikely friendships, set against a pastiche of flamingo-hued '50s melodramas. The film is photographed by Javier Aguirresarobe in sunny tones; the terra-cotta-tinted clinic looks like an expensive spa ("I didn't want the spectator to be faced with an atmosphere of pain or illness," Almodóvar has commented). These typically elegant sets are scenes for more common jokes. A demure, prim secretary enters an office and continues an interrupted telephone conversation: "I just took an elephant-sized dump." A talk-show host goes from wheedling to physically aggressive as she tries to pry the dirt out of Lydia about her breakup. Benigno tells the plot of a 1920s silent film titled Shrinking Lover. According to him, the film ends in triple-XXX explicitness by showing how this early version of The Incredible Shrinking Man consummated his love for his girlfriend.

The function of comedy is the same as the function of drama; it's an art that tries to explain the inexplicable. Talk to Her's motto might be "There must be a reasonable explanation for all of this." And as in the best screwball comedies, a series of characters all carry out their personal obsessions, caroming off of each other as they try to find contentment. The emotional side of the film isn't neglected; it's either a sad happy story or a happy sad one. Seeing Lydia's lean brown body, with her belly scars from previous fights, being wrapped up in her suit of lights to meet the fateful bull, you're moved to ripe, florid thoughts: "Women are such brave creatures. Only men can really hurt them." Such is the mood of this delectable, exotic and crackpot film.
---
Talk to Her (R; 112 min.), directed and written by Pedro Almodóvar, photographed by Javier Aguirresarobe and starring Javier Cámara, Darío Grandinetti and Rosario Flores, opens Dec. 25 at Camera One in San Jose and selected theaters.
---
---
Send a letter to the editor about this story to letters@metronews.com.
---
[ Silicon Valley | Metroactive Home | Archives ]