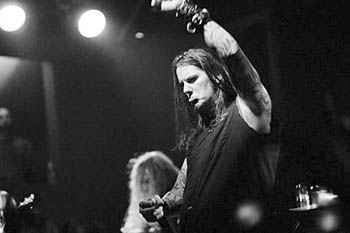 Superjoint Ritual dished out a lethal dose of American hatred.

Ramble On

Superjoint Ritual's Phil Anselmo went on revolutionary tirades last Wednesday at the Edge

By Sarah Quelland

WE LOVE YOU. Spread the word. Hail Satan." Hail Satan? Yep. That's how Phil Anselmo ended the Superjoint Ritual concert last Wednesday (Dec. 17) at the Edge in Palo Alto. After reminding his fans--a rough lot of bikers, metal heads and musicians--that his was "the most terrifying band," he mysteriously crooned some Led Zeppelin ("and she's buying a stairway to heaven") before leaving the stage.

Superjoint Ritual is the former Pantera frontman's current active project, and this one features Hank Williams III on bass, Kevin Bond and Jimmy Bower on guitars and Joe Fazzio on drums. The band hit the Edge with DevilDriver (former Coal Chamber frontman Dez Fafara's new band) for a night of concentrated anger and hate.

There's absolutely nothing modern or mainstream about Superjoint Ritual. Anselmo described his band's songs as "short blasts of hardcore blood" and said, to those who weren't around to witness Agnostic Front and early Slayer, "We're givin' you a fuckin' beautiful example of what it was like."

Superjoint's songs are violent and threatening, with titles like "Stealing a Page or Two From Armed and Radical Pagans." But what's really fascinating is Anselmo's well-known tendency to launch into bizarre diatribes between songs. On Wednesday night, he did not disappoint. At the moment, Anselmo seems to be existing in some paranoid parallel universe filled with enemies, and touring seems to be his way of achieving a platform to spout off his radical religious and political views in front of a receptive audience.

As a bandleader, Anselmo is a demigod. When he asks for a counterclockwise circle pit, he gets one instantly. When he wants to see hands up way in the back, arms rise immediately. When he bellows, "Let me hear some goddamn noise!" fans answer with steamroller screams. Few frontmen have the credibility and authority to command such respect.

After ranting about Saddam Hussein ("Saddam Hussein, we got you motherfucker. I am truly proud") and railing against "Bible thumpers" who he says are foolishly reading that religious text instead of learning how to defend themselves with nuclear weapons, Anselmo informed the crowd, "Once America turns, it's up to the free thinkers and the heathens and the pagans, man. Because when the time comes, I'm gonna rally. We're gonna be a dangerous force, and we're gonna have to be reckoned with."

It sounds like he's building himself an army and preparing to lead a revolution. To him, the stage is a pulpit, the fans are his congregation and he's preaching the absolute power of metal. He also seems to be in a serious measuring contest with his former Pantera band mates and anyone else who dares to challenge his honor. He proclaimed himself "the king of heavy metal hardcore music" and insisted, "We are the heaviest fuckin' band."

Superjoint played songs off its two albums, Use Once and Destroy ("The Alcoholik," "Fuck Your Enemy," "Ozena") and A Lethal Dose of American Hatred ("Personal Insult," "Dress Like a Target," "The Destruction of a Person," "Waiting for the Turning Point," "Permanently"). But between songs, Anselmo repeatedly returned to the concept of war, as if it's been a constant weight on his mind. He talked of enemies and of being prepared and sounded like a man with a bomb shelter stockpiled with rations, weapons and ammunition. "Believe me, there are targets, man," he told the crowd at one point, and he said cryptically that when Superjoint returns to the area, "I promise you by then a lot of things will be clear." Anselmo's message is anything but clear, but it does make his band all the more terrifying.

Those reading this on Wednesday can tune into R 2 Cents to catch an interview with Anselmo plus live footage from the concert. R 2 Cents airs Dec. 24 at 10pm on Channel 15 in San Jose, Cupertino, Los Altos and Campbell. The show may be rebroadcast later in the week. Visit www.r2cents.org.

HOT TOPIC: Waves Smokehouse & Saloon hosts the San Jose Poetry Slam Individual Finals Tuesday (Dec. 30), where slam champion Mike McGee goes up against eight of San Jose's best slammers. Visit www.sanjose.auraltradition.com.
---
Send a letter to the editor about this story to letters@metronews.com.
---
[ Silicon Valley | Metroactive Home | Archives ]