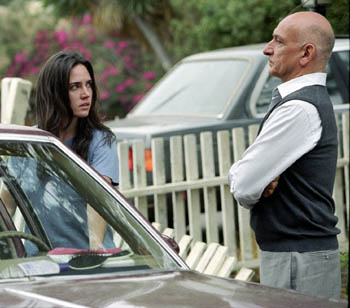 Neighborhood Watchfulness: Jennifer Connelly and Ben Kingsley square off somewhere along the California coast.

Property Values

Jennifer Connelly and Ben Kingsley fight over a coastal 'House of Sand and Fog'

By Richard von Busack

REAL ESTATE is a subject frequently more compelling than sex. The surreal California housing market is a natural background for horror and suspense, and yet it hasn't provided any material for the movies since Pacific Heights. Bad luck: House of Sand and Fog is just as unbelievable as that infamous Matthew Modine/Michael Keaton bowser. The film requires such epic suspense of disbelief that only the best acting could redeem it.

Jennifer Connelly plays Kathy, a Northern California coastal resident with a booze problem. Her sea-green eyes are wide and uncomprehending, as if the ocean's got inside her skull. Her opponent is Massoud (Ben Kingsley), a lean, physically fit bastard of an ex-Iranian air force colonel. His most prized possession is a photo of himself at a banquet, seated only three chairs away from the shah. Massoud tells his wife he has an executive job, but he actually works for Caltrans, digging ditches. (That's a stretch, at Kingsley's age.) He's saved up his pennies to buy Kathy's house, which she let slip through her hands because of a tax lien. He plans to rehab it fast and sell it.

In her newly homeless frustration, Kathy picks up Lester (the unmemorable Ron Eldard), an unstable married cop. After Lester and Kathy become lovers, Lester decides to lean on the colonel, mistakenly believing the ramrod-spined officer to be an easily frightened immigrant. Lester's inept job of threatening the man alerts internal affairs; meanwhile, he has second thoughts about leaving his wife and kids. Violence is the upshot.

First-time director Vadim Perelman apparently softened Andre Dubus III's bestselling novel, an Oprah selection. House of Sand and Fog might have worked as noir, but the chain of circumstances here beggars drama. Every single detail of the California real estate market is wrong, and Perelman keeps the funk out of this Robert Stone-style story and forces the sentiment in. He clogs the film with postcard shots of the fog coursing over the coastal mountains. One image he keeps repeating is of a mysterious telephone pole shrouded in mist. After the third time, you expect it to start narrating: "Yes, it is I, the fog-shrouded telephone pole. I see all, but say nothing."

Perelman lets Kingsley carry on in a bloody hospital sequence that makes the Sean Penn's money scene in Mystic River look like the work of a Scandinavian underactor. Just as irritating is an earlier scene in which Massoud informs his son that Americans are, in essence, candy-fed children. The corn-pone lecturing is the last straw. That is, if there weren't an even further straw: Massoud's wife, Nadi (Shohreh Aghdashloo), suddenly turning on the peasant hospitality for the unbalanced Kathy, calling her a "bird with a broken wing" and explaining that in the old country, strangers were thought to be possibly angels. House of Sand and Fog is a long mishap. First it worships the iron will of the immigrants, then it concludes that immigrants are basically honest naives too simple for our complex, decadent, self-destructive American natures.
---
House of Sand and Fog (R; 126 min.), directed by Vadim Perelman, written by Perelman and Shawn Lawrence Otto, based on the novel by Andre Dubus III, photographed by Roger Deakins and starring Jennifer Connelly and Ben Kingsley, opens Dec. 26 at selected theaters.
---
---
Send a letter to the editor about this story to letters@metronews.com.
---
[ Silicon Valley | Metroactive Home | Archives ]