[ Archives | Metroactive Central ]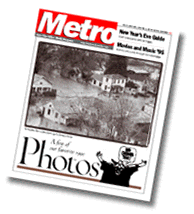 Dec. 28, 1995 - Jan. 3, 1996
Cover
Sharper Images: Some of the most memorable images of the last year, as seen through the lens of Metro photographer Christopher Gardner on location, on deadline and, occasionally, off the top of his head.

Toon In, Turn On: A year's recap by Metro cartoonist Steven DeCinzo, who is never inhibited about drawing his own conclusions about the people, places and platitudes in the news.

Movies
Films of '95: Richard von Busack tracks the highs and lows of the year in cinema, from Babe to Waterworld.

Othello: More than tragedy--it's near catastrophe.

Four Rooms: This world is a cruel place for the macho.

Music
Albums of '95: Gina Arnold tells how alternative rock became a wasteland of nobodies, and all of them are Better Than Ezra.

Rock & Hip-Hop in '95: Nicky Baxter wonders if fascination with the past doesn't have to derail the future of popular music.

Local Music in '95: Todd S. Inoue lists his highlights and lowlifes of the valley's rock, hip-hop and what-not scene.
EventsDining
Crème de la Crème: Christina Waters shares a few of the high spots from this year's dining adventures, and gets a few pet peeves off her chest.

A la Carte: Tempting ways to upgrade gastronomic techniques, plus New Year's Eve dinners to die for.
---
This page was designed and created by the Boulevards team.
Copyright &copy 1995 Metro Publishing and Virtual Valley, Inc.