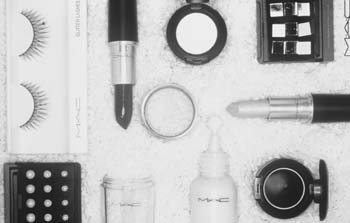 Ice Castles
MAC's newest line is so cold it's blinding
By Cory Feldman
In California, January is not exactly a winter wonderland. But if you want to look like an ice princess nonetheless, stroll over to the nearest MAC Cosmetics counter for a bit of shimmering, Arctic-cold chic. Brrr or not, it's definitely cool.
MAC, as all us makeup girlies know, often has the season's hottest selection. Just try to elbow yourself in at MAC's Nordstrom counter, wedging in between smart working girls on their lunch break and tempestuous-looking Spanish tourists with maroon-outlined pouts, and you'll know what I mean.
This season, while it may not quite be winter here in the snowy sense (although we do try to compete, with bouts of icy wind and--occasionally--frozen rain), MAC has introduced a glacial-white line of makeup and ornamentation that is both elegant and fashion-forward. Frosty glitter, icy pearls, crystal lashes, glacial lips--mmmm, apply it all and you'll become the perfect polar maiden.
Here's the Frozen White line, from head to toe:
White frost tint: an icy white lotion for the body and face. Gives a sheer shimmer to skin. $10.
Frozen white lipstick: a medium frosted tube of subtle creamy color. $13.50.
Vinyl lipstick: a true-red slash of deep color to accent the chill factor. $13.50.
Frost pigment: a pale-powdered Tinkerbell dust that can be worn alone or sprinkled on the face, body or hair for an icy finish. $18.
White glitter: a blustery shimmer that puts your skin in the deep freeze. $13.
MAC Pearls: a collection of icy drops that can be glued to the skin for a delicate touch. $18.
MAC Mirrors: small mirrored hair clips with Velcro on the bottom for a seductive, reflective shine. $20.
Glitter Lashes: wonderfully full falsies, tipped in crystal-frosted dew. Good for ice divas on the make. $6.50.
Gesso small eye shadow: a matte, white-as-snow eye-shadow for a wide-eyed stare. $11.50.
Black creme liner: a high-definition black liquid liner for ice-cold eyes. $10.
Frozen White is available at all MAC locations; try Nordstrom to save on the parking hassles, not to mention keeping your hands warm. The line is a glamorous way to look a whiter shade of pale and put admirers in an Arctic daze.
[ San Francisco | MetroActive Central | Archives ]