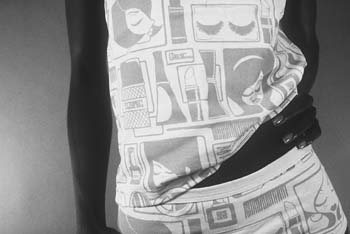 The Empire's New Clothes
How history has changed your underwear
By Carl Albrecht-Buehler and Cory Feldman
---
Models: Felicite (Stars Models), Andrew Strohmeier (City Models)
Make-up: Maki
Stylist: Johnny
Photos: Farika
Thanks to Stormy Leather, Brefs, Cosmic and Stars and City Models
---
With clothing manufacturers spending millions on the advertising, development and production of underwear, it is difficult not to question whether what's under there is a necessity (see side bar) or an indulgence.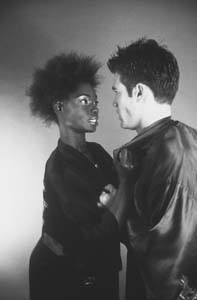 Silk dragon robes, thrift store. Red silk boxers, Brefs, $19

Centuries ago, underwear was only worn by the wealthiest of nobles. With the introduction of linen in the 18th century, lingerie elitism made way for mass under-wearing. In turn, the life expectancy of peasants sky-rocketed as they became significantly less prone to bacterial disease and infection. Of course the aristocracy swiftly drove underwear to new more expensive heights with corsets and bloomers of richer material. An assurance that class will always find a w\ay of highlighting its lines and divisions. In fact, class is still delineating itself underneath our pants.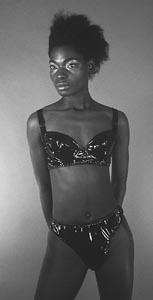 Pleather push up bra, $64.95 Available at Stormy Leather

An entire spectrum unfolds between Fruit-of-the-Loom (3 for under $5) and Victoria's Secret bejeweled "Miracle Bra" (in excess of $1,000,000). But what values drive the manufacturing of this sub-fashion?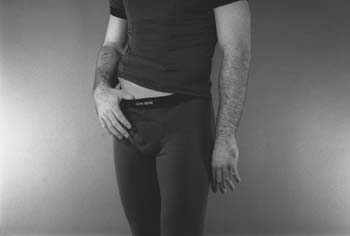 Black leggings, Olaf Benz, $58. Black T-shirt, Olaf Benz, $45. Available at Brefs.
The concept of utility and hygiene seems to have gone out the window sometime in this last century. Underwear has become more of a habit than concern. Of course underneath all that, it also seems to dress the human sexual presentation in the most rarefied of ways.

Bare Attitude: On the virtues of being an un-underclad lad.

Brazen, virginal, playful, demure, underwear is the final gatekeeper of sex. By the time enough clothing is removed and undergarments are revealed, sex is all but an inevitability.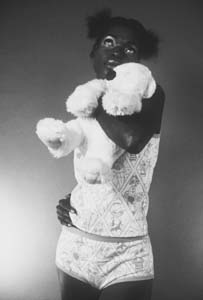 Blue Pajama top & bottom, www.cosmicdebris.com

The only question remaining is what kind. The pick of panties can allude to anything from the slow and soft to the rough and rowdy. Although underwear is often donned for a brief moment before being crumpled into a little ball at the foot of the bed, it can also be worn intimately and appreciated for its practicality and comfort.
Cosmic's line of cartoon-like-tank and undies has a dual appeal. Cotton is reasonably priced, easy to care for, and feels good.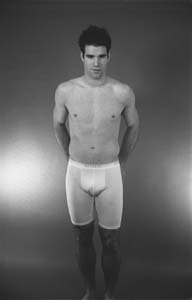 White bike shorts, Sauvage, $18. Available at Brefs.

The pre-adolescent appeal speaks for itself.
Ever since Marky Mark showed us his Calvin's, men have been wearing fancy schmancy undies. For guys who want to dress up down there, Brefs has an array of designer boxer briefs. From simply sexy silk to classy cotton, it's clear that size doesn't matter that much ... if you're wearing nice underwear.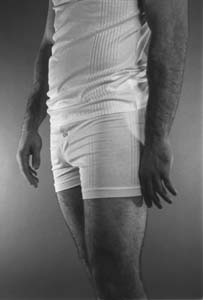 White tank, Hanro, $60. Boxer Briefs, Hanro $45. All at Brefs.

With latex, rubber and leather elbowing their way into our pants, its no wonder that stores like Stormy Leather are gaining patronage. Fetish wear that was previously reserved for S&M advocates and exhibitionists is shedding it's stigma to make way for people who want to spice things up for fun. That's not to say that the kink is gone, just no longer reserved exclusively for the brave. Patent-leather bikinis, suede panties, chains and rubber, whatever, it's worth the reaction to slip into something a little less comfortable.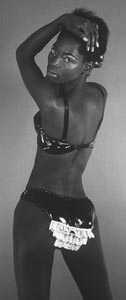 Frilly pleather knix, $34.95 Available at Stormy Leather

As our private arena becomes more mediatized with Victoria's Secret's models popping out all over television, it's clear that wearing your heart on your sleeve just won't cut it this year.
[ San Francisco | MetroActive Central | Archives ]