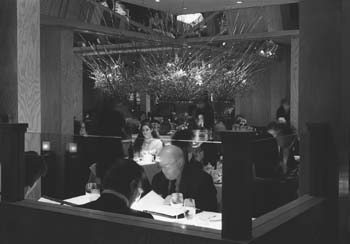 Gary Danko's wharf-side restaurant ushers in a new era in San Franciscan dining

Pier Pressure

By Michael Stabile

My minor bipolar disorder--in quasi-remission, I hope--still manifests itself in my relationship to waitstaff. On one hand I frequently invoke the old adage that "waiters are much nicer than people" (which is as flip as it is true). On the other, an over-attentive waitstaff can put my nerves on edge more than a crying baby on a tunnel-stuck Muni. Waiters, in general, should be seen and not heard, to borrow another adage. Or perhaps speak only when spoken to, to borrow further.

I think that there were more waitpersons at Gary Danko's eponymous palace in the Pier 39 district than I've experienced in a long time. But rather than get in my way, they hit me like so many Klonopin, never interrupting, offering answers only as questions were asked and recommendations at the mere raise of a quizzical eyebrow. Dreamy. I can only credit super-maitre d' Nick Peyton whose ability to fine-tune staff is the stuff of legends.

The waitstaff, as delightfully there-not-there as they are, still take a backseat to Mr. Danko's "modern classic" cuisine, a crucial choice done with such precision that, should it succeed, it could render obsolete the fin de siècle fusion craze (not to mention the slowly dying comfort food fashion). Not that Danko hasn't borrowed cleverly from world cuisines, using spaetzle here and a touch of Morocco there. But the real meat of the menu are the major entrees which are classically Californian with the requisite emphasis on the seasonal, the artisanal and the free range.

Danko's elegance raises the stakes for older competitors such as Postrio and Jardiniere. Having moved from the Ritz-Carlton dining room only recently, he knows his terrain well.

Classics a la moderne include a (is it ever not?) delicious seared foie gras (with Fuji apples, caramelized onions and an edgy verjus sauce) and creamy delicately cooked oysters glazed with leeks and salsify.

Danko's culinary protocol is a variation on the traditional Chinese menu presentation. But whereas that had us choosing items from menus A and B, Danko woos us with prix fixe courses numbered three through six. So, for instance, if we were to exercise the--like Lou Bega or Coco Chanel--the five ($66), we could (conceivably) choose all our dishes from the appetizer menu. Or the dessert menu, should we fancy dish after dish of Port-glazed figs with licorice ice cream, chocolate-walnut tart, pineapple flambé, roast caramel pears with gingerbread, and a fruit sorbet sampler. Of course few are so aroused by saccharine sides as to miss out on seared Maine sea-scallops with artichokes, black olives and spinach or the pan-steamed guinea breast, leg-confit with apples and chestnuts or duck prosciutto salad. However, should we choose the six-course menu, we could have our dessert fantasy come true and start with herb-crusted loin of lamb as well. Now that we're adults (or at least children pretending to be) we can do such things. And no parents around to lecture us .
---
Gary Danko, 800 North Point (at Hyde); 415.749.2060
---
[ San Francisco | MetroActive Central | Archives ]