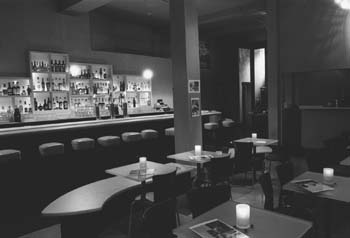 Beach Bumming
North Beach blossoms with a new wave of bars and clubs
By Adrienne Marie LaBonte
It was only Tuesday and the week was already a complete drag. Recovery from the weekend wasn't coming swiftly enough, and the idea that three more work days loomed ahead didn't exactly grace my face with its usual perky smile. I had to institute a remedy for this utter disgust of winter. Voila! A dinner party! Soon sake was flying and the Sapporo was flowing. Feeling a little spunky from all of the activities and being the hostess, I thought it best for us to venture out and write some tales of the city of our own. You see, my flat is a little on the small side, unlike most of the utterly spacious low-budget housing so easily available in this great city, so we decided to pack up shop, hit the streets and check out my new local bar--the Blind Tiger.
Up and down Columbus and along the Broadway thoroughfare, a new bar life is emerging. From the old-school Italian cafes and dive watering holes, a new wave of flashy modern lounges give the area distinct new flavor.
On the corner of Broadway and Powell, the Blind Tiger provides refuge from the busy Broadway block that is usually steeped in sloppy sailors and 15-year-old tourists' boys looking to get lucky. The bar is sleek and modern, with pleasant bohemian flourishes. It's a stunning space filled with vibrant colors, is decorated in high Mandarin style and features two bars--a standard cocktail bar and a sake bar.
The North Beach/Chinatown neighborhood keeps getting hotter where nightlife is concerned. Soon the Blind Tiger won't be alone in its offbeat location. John and Greg of 15 Romolo tell me that they will be opening a new yet-to-be-named lounge across the street. Other new bars in this area include 850 Cigar Bar, the Royale and the Field.
An oasis for cigar aficionados, 850 Cigar Bar has a distinct Spanish flavor. It offers a small tapas menu and serves until 10pm. There's a pool table in back for the sharks, and nonsmokers can retreat outside to the Spanish-tiled courtyard. It's a great space, and even better when sipping a mojito and sneaking a Cohiba.
The Royale, which took over the once popular Gathering, has made a dramatic change in its image and is now more like Broadway's Fuse--vibrant neon blues, slick seating and stiff drinks. A good place in which to escape should you get tricked into frequenting Savoy's, with its Gap-clad minions.
The Field, on the other hand, doesn't mess around with neo-retro gimmicks to entice its customers. It's an Irish bar serving up mean fish and chips and to-die-for burgers. It's not flashy, but what you get is good .
---
The Blind Tiger (pictured), 787 Broadway St.; 415.788.4020
850 Cigar Bar, 850 Montgomery St.; 415.291.0850
Royale, 1326 Grant Ave.; 415.433.4247
The Field, 524 Union St.; 415.433.7676
---
[ San Francisco | MetroActive Central | Archives ]