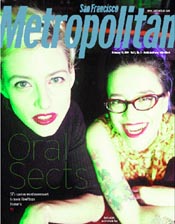 February 15, 1999
Features: Tongues in Chic
Spoken word artists march to a new Beat, reflecting what goes on in SF today--not what was happening 50 years ago to that other generation.
Tara's Advice: Tara's tips on spotting teases.
SFupernatural: SF mystic Ciall Austell channels the artist Miró among others.
1:15: Gossip columnist C. Silo.
Frisco Utopia: Hank Hyena muses about pies on the fly.



Heavenly Hybrid: El Stew's sizzling recipe of old school, hip-hop, electro and drum 'n' bass.
Noise Pop Tip Sheet: Jeff Stark handicaps the Noise Pop lineup.
Music Picks: Reviews of the latest CDs by Amber Asylum and various artists.
Club Guide: Disco divas, hip-hop connoisseurs and salsa suaves to flannel-clad pinball players, jazz luminaries and more.



Mirror Mirror: SF MOMA exhibit holds up a surreal mirror to womanhood.
Urban Retreat: A visit to the day spa.
Miss Pinkie Shears: The debonair miss gives her fashion advice.
Concrete Runway: Dara at Nob Hill.



The Changeling: The Brandon Teena Story examines the tragic end of a Nebraska gender-blender.
Film Picks: Reviews of The General, The Witchmaker a.k.a. The Legend of Witch Hollow and Peeping Tom.



Pop Art: Getting on the bus with Popcorn Theater.



Aw Shucks!: Michael Stabile considers the oyster.



Silicon Suspense: Joe Hutsko, author of The Deal, found that sometimes business imitates art.
Book Picks: Reviews of the latest books by Martin Amis, Laura Kasischke and Chimo.



Please don't forget to write! The Metropolitan welcomes letters. Like any great work of art, they should be originals--not copies of letters sent elsewhere. Include address and daytime phone (for verification purposes only). Letters may be edited for length and clarity or to correct factual inaccuracies known to us. Postal: Metropolitan Letters, 1776-A 18th St., San Francisco, CA 94107. Fax: 415/487-9094. Email: [email protected]. Emailers, please include name, city of residence and phone number. Letters printed will list email address unless otherwise specified. Letters to the editor are not currently published in the online version of this paper.