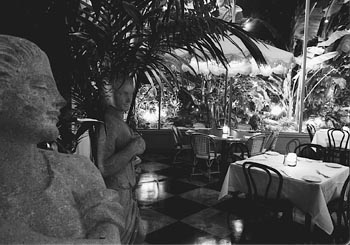 Pretty Hoisin
Bring a machete and a bib
By Michael Stabile
I just received a death threat from someone regarding my last review, so I'll tread lightly this time. Not that I could write something about Murray's Glasshouse that would warrant such strong emotion. Perhaps one of the most underrated and unknown restaurants in San Francisco, the Glasshouse rims the Pacific with clever culinary combinations while housed in a starlet-worthy setting. And while I understand why Traci des Jardin would want to employ the clever linguistic twist for her own dining room, Murray's Glasshouse with its wall-to-ceiling view of a lush garden should be named Jardiniere.
And then there's the hoisin sauce--that garlicky sweet and spicy condiment and Chinese food staple that presides over Murray's like a study-hall monitor, corralling disruptive flavors in the name of epicurean unity with only the occasional overbearing result. Between the omnipresent sauce and plants large and fantastical, eating at Murray's could be described as Hoisin, I Shrunk the Diners.
Flora aside, Tony Roma couldn't have created a more delicious baby back rib. And he wouldn't have the wherewithal to use such a gorgeous amounts of hoisin. And where Murray offers hot steaming lemon napkins, Tony would merely have supplied the ubiquitous toxic wet nap.
Even more tender than the ribs was the Australian rack of lamb. While the cabernet hoisin seemed a bit redundant after the fistful of ribs, the macadamia-encrusted lamb was like a savory ice cream cone rolled in sprinkes. So I got to thinking: if lamb is so juicy and pliant because it's from a baby sheep, there's possibly a whole world of culinary marvel that we're missing by not eating our young. A delicious if modest proposal to overpopulation: just add some sauce and we're set. Scrummy!
Hoisin aside, I've been waiting for a restaurant to offer me (appropriately disguised) surf and turf, everyone's favorite Floridian specialty (or at least mine). Leave it to Murray's Glasshouse which, because it's located in the Canterbury Hotel, must make at least one concession to the needs of less refined out-of-town visitors. Fine with me. The grilled filet mignon and lobster-sea scallop medallion was what I've wanted for years but have never had the courage for which to ask. Either the dish is more delicious than I remember or chef Michael Baker has the ability to improve on a combination which is, in itself, perfection. Served alongside is a gingery sweet potato mash which gave the traditionally East Coast dish a decidely Western (or Eastern, depending on how you far you want to go to define "The Rim") flair. And for those who are squeamish diners, it doesn't require eating a baby.
---
Murray's Glasshouse Restaurant, 740 Sutter, 415.474.6478.
---
[ San Francisco | MetroActive Central | Archives ]