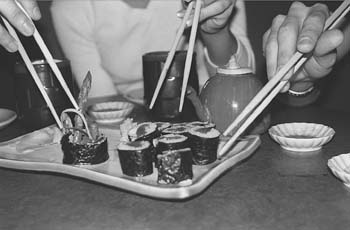 Can multiethnic sushi make the grade?
By Michael Stabile
I'm all for adventurous eating, but the consumption of "innovative" sushi daunts even me. Ascribe it to imperialist innocence, if you will, but sushi has always represented simplicity, freshness and lack of culinary pretense. With its basic trinity of condiments--wasabi, soy sauce, ginger--and the clean presentations of sashimi and nigiri, such a successful (non)recipe shouldn't be messed with: it's like adding cheddar cheese to salade nicoise. I'm no bigot, and I'm proud that America is such a melting pot socially, but there are some aspects of our comingling cultures that I would like to keep pure (even if the notion of purity itself is colonialist fantasy).
When Sushigroove opened two and a half years ago on Russian Hill, I was excited rather than hesitant. It was upscale and glamorous, more New York than San Francisco, and despite the decadent futuristic decor, the sushi was and continues to be decidedly haute and not a foray into fusion variance.
The real trouble began at Blowfish, which opened in 1996 on the southeastern edge of the Mission, when someone decided to fuse a sushi bar with a rave. Loud techno and a half-dozen television screens (showing Japanese anime and other Speedracer-esque programming) pass for ambiance.
My fear increased when I was introduced to my server. He looked like an Upper Haight street urchin who had been showered and washed. My first choice, along with a glass of chilled opal sake, was the Ritsu Roll, a mixture of lightly seared tuna, avocado and tobiko. The presentation was impeccable: a cocktail glass filled with soy sauce loomed like a statuesque dedication to the überhip diner, and the humble but well-balanced rolls lay at its base. The only disappointment was the ponzu sauce dotting the plate. On its own, or with a dash of soy, the Ritsu Roll was classic and clever, but the normally lemony ponzu sauce instead tasted like a high-end ketchup.
I followed with the Tokyo Chicken as a second appetizer and was confronted with several large chicken fingers tented around some greens and a diabetically sweet papaya sauce. The unsubstantial breading left me wondering if they shouldn't have substituted "microwaved" for "deep fried" in the dish's description.
Basic nigiri and sashimi selections highlighted the restaurant's emphasis on delicious upmarket fish--a welcome change for the Mission district. Unfortunately, each of the specialty rolls was flawed. Though I didn't dare try the "Italiandaze" Maki, which boasted basil, cheese, tomato and salmon, or the Maui Maki, made of tuna, mango and macadamia nuts, the Blowfish Eye Maki beckoned with its parenthetically mentioned "daily availability limit." Seared in a light curry batter, the tuna, wasabi, tobiko and cucumber roll was delightfully light and blended. The curry, despite its non-Nippon pedigree, bridged the flavors skillfully.
The Bamboo Maki (eel and bamboo shoot with avocado on top), on the other hand, was sloppy to eat and was covered in a sauce reminiscent of McDonald's honey-mustard. The bamboo shoot itself was more gimmick than flavor addition, and the combination obscured the flavor of the usually distinct unagi. I left still skeptical of the fusion sushi movement.
I fared better at Tokyo Go-Go, the upscale, edgier outpost of Ken Lowe's highly successful Ace Wasabi sushi bar in the Marina. Tokyo Go-Go, like Blowfish, targets a young crowd with distinguished tastes and a decent amount of disposable income. It also has an extensive appetizer menu that relies on nontraditional ingredients and distinctive presentations.
The miso-marinated Chilean seabass was outstanding. Hot, buttery and flaky, with the complementary richness of the lingering miso, it was one of the best preparations of the trendy, oft-overused fish that I've eaten. I gobbled the Duck Duck (duck nigiri) almost as quickly (don't worry, it's not raw but is presented in a manner similar to unagi). The appetizers and atmosphere are playful, not pretentious: more experimental '60s go-go boots than the cloying arrogance of the go-go '80s.
The texture and subtle flavor of asparagus in Tokyo Go-Go's Flying Kamikaze Roll augmented this multilevel toro (fatty tuna) roll perfectly. It was served detrimentally cold on two occasions, however, possibly suggesting that it had been preprepared and refrigerated. When it finally warmed to regular sushi temperature, it proved one of the best rolls in San Francisco.
The smoked trout maki hand roll was mushy, but the earthy accent of freshwater fish was a welcome change from salmon and other overfished denizens of the Pacific. The Sunshine Roll was slightly less enticing, though more inventive. A single quail egg graced the top of the salmon and was complemented by cilantro and green tobiko. Though such tastes and textures challenge normative sushi preparation amicably, the substantive flesh of the Sunshine Roll was overshadowed by the combination.
Fusion sushi may be a worthy, if risky, venture for some--but for me it ends at Tokyo Go-Go's namesake roll, the Go-Go. I ordered it as a last-minute addition to the lineup, barely glancing at the ingredients before dictating it to the waitress. "It's crazy but delicious," she assured me when she returned with the order. Lying on the sushi serving platter was the Japanese equivalent of a McCaesar Salad Wrap (w/shrimp! Yummy!). Out of politeness, I ate a few. Each piece had a big garlicky crouton in the middle. Things had gone too far. I finished my sake, then ordered and finished a Sapporo while trying to repress the memory. There are some cultures that weren't meant to be married.
---
Tokyo Go-Go, 3174 16th St (415/864-2288) Blowfish, 2170 Bryant (415/285-3844)
---
[ San Francisco | MetroActive Central | Archives ]