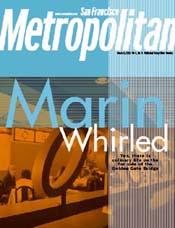 March 6, 2000
Cover: Marin Whirled
Yes, there is culinary life on the far side of the Golden Gate Bridge.



On the Town: Golden Boy laments the sorry state of his tarnished checking account.
Paperoni: Stage caricaturist Ennio Marchetto and his cutouts send up all manner of celebrity.
Job Interview: The soul of graciousness, the elegant Jessica Clark decants both wine and wisdom.
One Card Monte: Gym Dandy?
Friday Nights: Our newest social butterfly dates a potted-Ivy pizza boy.
Tara's Advice: Genie with a Bottle.
Urban Libations: Forget Elián, let's free the mojito!
Fashion Forward: Stop pinching those cheeks--there's an easier way to get this season's staple.
Wax on, Wax off: Beauty takes a trip to Brazil.
Concrete Runway: Olivia Christine Ferucci at 71 Haight.
Lisa Says: Teensy electric T-shirts reel in the glitter years.



Film Festival Ping-Pong: Metropolitan cans Cannes and heads to Rotterdam and Sundance instead.
Film Picks: Reviews of 'A Moment of Innocence/The Silence,' 'Orphans' and the Columbia Pictures' 76th Anniversary celebration.



Sugar Sacked: Takako Minekawa hits the downbeat with 'Fun 9.'
Music Picks: Reviews of new CDs by D'Angelo and TAM!, and the 'Magnolia' soundtrack.
Club Guide: Disco divas, hip-hop connoisseurs and salsa suaves to flannel-clad pinball players, jazz luminaries and more.



Suspect Devices: 'Explosive Acts' paints a potent portrait of an absinthian art world.
Book Picks: Reviews of 'Altar Ego' and 'Johnny Panic and the Bible of Dreams.'



Multi Medea: Working Women Festival IV issues more gynophilic delights.



Please don't forget to write! The Metropolitan welcomes letters. Like any great work of art, they should be originals--not copies of letters sent elsewhere. Include address and daytime phone (for verification purposes only). Letters may be edited for length and clarity or to correct factual inaccuracies known to us. Postal: Metropolitan Letters, 1717 17th St., San Francisco, CA 94103. Fax: 415/487-9094. Email: [email protected]. Emailers, please include name, city of residence and phone number. Letters printed will list email address unless otherwise specified. Letters to the editor are not currently published in the online version of this paper.