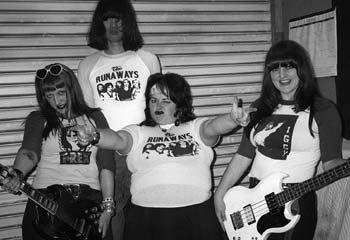 Photograph by Farika

Glam Dunk: The Bobbyteens model guitarist Lisa's custom shirts.

Lisa Says

Teensy electric T-shirts reel in the glitter years

"Make 'em little, tight. The tighter the better, especially for the guys. Keep it looking old like it could have come from the '70s." Meet Lisa, San Francisco's newest addition to the tempestuous union of rock & roll and fashion.

Her band: The Bobbyteens, assembled four years ago by Darrin Raffaelli, love child of Phil Spector and Joey Ramone, also the guy who started the Donnas. Lisa plays guitar--self-taught--and writes songs with singer Tina about boys. "Like teenagers singing about boys. Very camp. Very Niki and the Corvettes, you know, Runaways-style stuff." Imagine a bubblegum burst of L.A. pop with The Sweet inside and you've got the 'Teens take.

Her fashion: revamped baby T's. A few years back, gigging in L.A., Lisa noticed computer-generated decals of older bands scanned onto new, extra-large T-shirts. She growled, "Too modern!" Meanwhile, Russell, the Bobbyteens drummer, was making silkscreens for the band. With no art-school credit to her name, Lisa cut and pasted a few designs, rounded up a slew of vintage T-shirts, enlisted Russell's silkscreening skills, threw in some glitter and rhinestones and--bam!-- T-shirts even Marc "I ain't no square with my corkscrew hair" Bolan would wear.

Lisa's wham-bam-thank-you-glam aesthetic uses the thrift-store T-shirt as homage to her favorite pop icons: Marc Bolan of T. Rex, Iggy Pop, the Runaways, David Bowie, Roxy Music, the Dead Boys and the Rolling Stones--just a few from a long, glistening list. In quintessential DIY production mode, Lisa painstakingly handcrafts her wares, taking up to an hour just to get the glitter right, packing it on for extra glitz.

Why the glam resurgence? Why do the Velvet Underground sell more records than ever? What's with this Hansa Studios nostalgia, Bowie albums ad infinitum, androgynes galore, Oscar Wilde's revival? What's the point of Velvet Goldmine's hagiographic stab? Maybe turn-of-the-century confusion, technological mayhem and dried-up alt-rock drive one back in time to more colorful exemplars of rock & roll's transformative days. With rock's half-century history precariously behind us, people are hitching onto its interstellar epochs by infusing fresh meaning into today's sagging scene. As for Lisa, her fast-forward T-shirts prove exhilarating topics of conversation on the commercially congested urban runway.
---
T-shirts available at Wasteland and Buffalo Exchange. Look for the Bobbyteens' LP, Fast Livin' and Rock n' Roll, at Amoeba. The band will perform with the Fevers, the Fancy Pants and the Closeups on March 11 at Kimo's and with the Angry Samoans on April 8 at Coquetry.
---
[ San Francisco | MetroActive Central | Archives ]