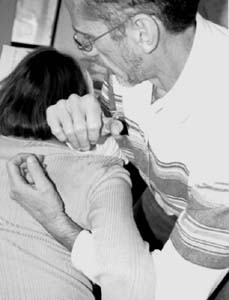 Farika

Replacing Excedrin with Corporate Massage

By Dara Colwell

In the old days, when Marlboro man roamed freely and a coffee break meant the brown-stained haze of a caffeine-nicotine buzz, the boss no doubt stared at his watch, chanting "lost productivity" like a mantra. Today, however, that 15-minute break has been revamped into a stress-busting health session with the boss even footing the bill for the perks. A Left Coast fad, on-site corporate chair massage has made its way into the cubicles and is relaxing computer-fazed employees on the job.

The term "massage" usually conjures images of Swedish vixens lathering bodies in oil, but corporate chair massage is a different deal. A fully clothed, oil-less, seated venture, chair massage focuses on the neck, shoulders, forearms and back--places where job-related stress tends to pool. The repetitive nature of typing, telephone work and constant mouse-clicking can overwork specific muscles, reducing circulation. That, and sitting in one place for hours on end, failing to stretch and pushing the 24-7 routine, can create stress, pain and, simply, exhaustion. Chair massage is meant to counter this by entering the danger zone (the office) and rejuvenating employees.

Dozens of massage therapists offer this service in the Yellow Pages and on the Internet. I chose Roger Nunez of Hands on Health, an acupressure practitioner located in the Potrero Hill area, not only because he was a few blocks from the office, but also, admittedly, to escape office scrutiny. Once bulky wooden contraptions, today's chairs are lightweight padded metal, resembling odd modern sculpture. The chair is angled at 50 degrees, with arm, leg and head rests, and has to be "mounted," leaving one spread-eagled like a frog, but curiously comfortable. Nunez's chair work was primarily squeezing and stretching muscles in those stress-holding areas, and after a mere 15 minutes I walked away feeling light, happy and alert. Just like having an espresso without the bad breath.

The going rate for chair massage is $1 a minute, $60 an hour. This might seem expensive, but considering that the person comes to you, brings the equipment and gets to your sore spots, giving them blessed release--and all in 15 minutes--it's a steal.
---
Roger Nunez can be reached at 415.979.9062 for appointments.
---
[ San Francisco | MetroActive Central | Archives ]