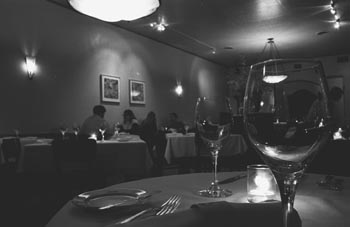 Flower Power
Nasturtium's arrival recalls the rite of spring
By Michael Stabile
Nasturtium is the new kid in school and it's a little lonely. If I were the mayor, I'd bus people in and make its namesake flora the municipal flower. How's that for an endorsement?
Located in the inner Richmond (which for many diners is considered the ends of the earth), Nasturtium is easily passed by, but not easily forgotten. Husband and wife team Michael and Alison Hart wanted to open a restaurant on par with downtown's kitchen socialites, but accessible and with the distinct feel of its neighborhood. Very Fringale sans freeway offramp. In all categories, they have realized their goals.
I've been a fan of the flower--a bright orange and yellow blossom that tastes like sweet peppered velvet--for years. They abound in Golden Gate Park and snatching one fresh from the ground is a delicate but powerful experience. The same can be said of the restaurant, a soft and tasteful Dijon-ed dining room where the seared quail on watercress with pomegranate vinaigrette could pass for an undiscovered Manet. And that's just for starters.
I haven't eaten an entree besides the giant lobster ravioli. (Luckily, a dining critic need not go alone and I happily sampled several others.) Stuffed with wild mushrooms and goat cheese, it's akin to a B-movie villain who mesmerizes you until you follow him everywhere and obey his every command. It reminds me of this Beijing noodle house where a line formed around the block each night until it was discovered that the dishes were made with opium poppies. Could the lobster ravioli be harboring a secret ingredient?
The rack of lamb is no slouch. Tender and rare, it provides a sustentative balance and earthy complement to the light couscous with roasted garlic jus. If you don't love lamb, you should be shot. But I can't enforce that, so as a last resort I concede that the next best thing is Nasturtium's options of entrees: pork, veal, chicken, salmon, duck, rabbit, beef. What more could one ask for? (A vegetarian option, I suppose, but I think that that movement may have gone the way of the Shakers at the turn of the new millennium.)
The service is quiet but attentive, and my favorite part of any meal--the arrival of the crumber--was both on time and effective. With the exception of a small stain from the wild mushroom terrine, no one would have known how hastily I had crammed food into my mouth. (And the salt and pepper cellars come with a classy little spoon which may, in fact, be the '80s McDonald's coffee stirrer for the double zero.)
So go there. Life's too short to only stop to smell the flowers. We should be eating them as well.
[ San Francisco | MetroActive Central | Archives ]