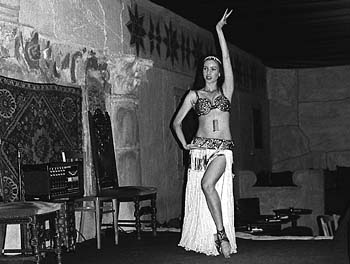 Farika

Service With a Smile: A dancer offers sensory respite from Amira's pleasantly languorous meals.

Amira's Middle Eastern fare provides visual and culinary Turkish delight

By Michael Stabile

Before the discovery of California--before, in fact, Sir Francis Drake (never mind Ms. Alice Waters) docked on the far coast--Old World gourmands recognized only three cuisines as distinctive enough to form the roux for the rest of the world's sauces and stews. Italian was mere deviation, English an abomination and Tex-Mex not even a twinkle in Christopher Columbus' eye. Like the primary colors--red, blue, yellow--Turkish, French and Chinese were the base palate from which the more backward cultures supposedly borrowed their techniques and ingredients.

Since those haughty dark ages, we've come a long way. Now each hamlet, suburb and school district stakes its own claim on the dining landscape. While I'm all for pride and individuality, I wonder if we wouldn't be better off by dropping Pennsylvania Dutch and whatever aegis chicken strips come under. Also, I wouldn't mind getting rid of all those mass food "styles"--you know, like, Chicago, New York, California or New Haven style pizzas, which only taste good in the actual city purchased. Or flavored bagels for that matter.

None of this really has anything to do with Amira, a couch-and-pillow food harem on Valencia Street, except that it's Turkish--which seems to be the Atlantis of the aforementioned culinary Pangea. Once the Ottoman Empire fell, and broke into small internecine neighbors like Iraq and Iran, Turkish food slowly lost its cachet. The most recent attack on the once powerful, heathen empire has been launched by the vendors of spit-roasted and incredibly delicious schwarma and falafel, who have taken the food-pyramid-friendly moniker "Mediterranean."

Enough whining, however, because Amira covers a whole range of Middle Eastern cuisine, including Lebanese, Moroccan, Turkish and Libyan. Maybe it's an authentic representation of the former Ottoman, maybe it's just an Arabic version of Chili's. Actually, Amira bears less resemblance to Chili's than it does to one of those underground "ethnic" representations found past that big golf ball at Epcot Center. One of the problems with the original Ottoman Empire was its unwieldy size. The same problem sometimes plagues Amira as well.

Luckily, there are some empirical jewels amid the salads of Babel. For starters, the garlicky walnut dip ($5.75), touched with paprika and subtle nut-butter, creates a pita-bound condiment that is unlike any of the garish creations normally labeled "garlic-lover's." The babaghanouj ($4.75) is wonderfully smooth, with a real roasted depth not often found at the roadside Mediterranean stands. The falafel ($4.95), however, was cool, dry and, I hate to say it, a little sawdusty.

The entrees proffered mixed results. Some, like the Moroccan couscous topped with lamb ($12.95), chicken ($10.95) or shrimp ($13.95), were spicy, vegetal and pleasantly simple. The apricot chicken ($12.95), on the other hand, was a Damascene mismatch of fruit and chicken, a rather diabetic mixture resembling heated ambrosia (which, while great for a Southern dessert, is not such a good thing in a meal). The Moroccan pastilla, a filo pastry stuffed with chicken, egg, almonds and cinnamon, fared slightly better in the balance, but should have been an appetizer, given its confectioners' sugar topping and swirling of flavors.

Perhaps in order to keep the diner's mind off his or her own waistline, Amira (whose name means "Princess" in Arabic) sends out a bevy of beautiful belly dancers complete with veils, gyrating hips and metallic tip pots balancing on their heads. Neither lap dancers nor cartoonish Disney recreations, the ladies aid in digestion and fill in those pregnant lulls that occur when you've eaten one too many dolmas, have filled up on the bread and can think of little better to do than to have your entire digestive tract surgically removed. Instead, your best bet is to lie back on a pillow, sip the dark Turkish coffee and try not to be lulled into serenity by the interpretive Scheherazade before you.
---
Amira, 590 Valencia St. (at 17th). 415.621.6213
---
[ San Francisco | MetroActive Central | Archives ]