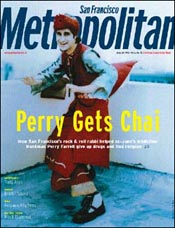 June 29-July 12, 1998
Features:
Wisdom From Above
Notorious Lollapalooza bad-boy Perry Farrell finds inspiration from the rock & roll rabbi.
Wharf Watch: Turbo ride, baby.
Millie's Map: Millie discovers disco's Mecca.
Job Interview: Ever wonder what it's like to sell porn?
Tara's Advice: Getting caught cheating.



Home Grown: The latest in hemp-based body care.
Miss Pinkie Shears: The debonair miss gives her fashion advice.
Concrete Runway: Jenn Sunflower-Fish at 16th and Valencia.
Real Art: Unflattering imitations of corporate ads.
Adverteasing: Fashion ads venture into the Bi-Files.



Wise Fool: An interview with James Urbaniak, star of Hal Hartley's indie epic, Henry Fool.
Movie Madness: Quirky Brainwash Movies Festival showcases over 50 short films and videos.



Blagging and Boasting: Massive Attack, Tricky and the Bristol Sound.
Spin Cycle: Going for Baroque with Black Diamond.
Poly Rhythms: San Francisco DJ Polywog talks about her long, strange trip from Juilliard to Lollapalooza.
Club Guide: A week's worth of hot night-clubbing.



Culinary Confusion: What's the difference between Firewood, Firefly and Flytrap?



Fame Drain: Dirt and drivel in celebrities' kids memoirs.



Please don't forget to write! The Metropolitan welcomes letters. Like any great work of art, they should be originals -- not copies of letters sent elsewhere. Include address and daytime phone (for verification purposes only). Letters may be edited for length and clarity or to correct factual inaccuracies known to us. Postal: Metropolitan Letters, 1776-A 18th St., San Francisco, CA 94107. Fax: 415/487-9094. Email: [email protected]. Emailers, please include name, city of residence and phone number. Letters printed will list email address unless otherwise specified. Letters to the editor are not currently published in the online version of this paper.