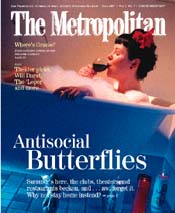 For the Month of July 1997
Features:
Antisocial Butterflies
Summer's here, the clubs, theaters and restaurants beckon, and ... aw, forget it. Why not stay home instead?
The Durst of Times: No tolerance, please, we're southern baptists.
Coronary Street: Efforts afoot to make S.F. biking a little easier.



Enter Stage Right: Gracie's mixes an oddly theatrical theme with its cuisine.
The Good Life: Communing with the Grape, and each other, at a wine tasting.



Worst Verse: Ouch! Some of this poetry makes Helen Steiner Rice's Hallmark card verse read like Allen Ginsberg.



Watch Out, Willie: D.C.'s Capitol Steps are coming to S.F., and they're bringing their sharp-edged political satire with them.



Don't Fear the Reaper: Carrie Nardello's grim art has gone gentle.



Please don't forget to write! The Metropolitan welcomes letters. Like any great work of art, they should be originals -- not copies of letters sent elsewhere. Include address and daytime phone (for verification purposes only). Letters may be edited for length and clarity or to correct factual inaccuracies known to us. Postal: Metropolitan Letters, 1776-A 18th St., San Francisco, CA 94107. Fax: 415/487-9094. Email: [email protected]. Emailers, please include name, city of residence and phone number. Letters printed will list email address unless otherwise specified. Letters to the editor are not currently published in the online version of this paper.