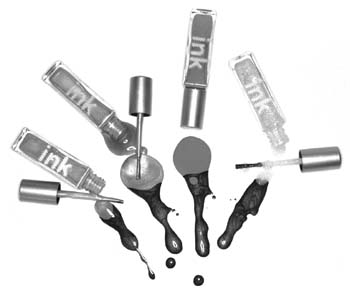 Photograph by Dayve Morffy

Ink's new line shellacs inspiration onto fingertips

San Francisco is all about music. From Joplin in those Haight-Ashbury days to the retro swing craze, music has both seduced and sold. Following the Amoeba record hype and the Gap ad tripe, the latest product to put its spin on sound is, surprisingly, nail polish.

Ink Stains, a new mix of 12 nail polishes ($7 apiece) in such flavors as Goldfinger, Voodoo and Deja Vu (yep, of Dionne Warwick fame), has harmonized music with varnish and it's an odd but attractive mix. The San Francisco company's collection of music-inspired colors may not have you humming a tune, but the colors are unconventionally striking.

While music tends to evoke strong memories--first kisses, mad drinking sessions and The (Try-to-Forget-Him) Ex--the association with nail polish is a little more tenuous. Unless, of course, you were having an incredible manicure at the time.

I came across Ink at the Beauty Bar on 19th and Mission, and the combination of a friendly manicurist, potent Cosmopolitan and a double coating of Rhapsody in Blue made the link all the more tangible. While our conversation began around ex-boyfriends and dating philosophy, it eventually ended up, thanks to Ink, revolving around music, too. "Like he didn't give me enough (fire-red) Respect!" "Totally. Did he think he was some kind of (glittery) Superstar?!" Five fingers later not only was I healed, but my nails looked fabulous and I was ready to hit a record store.

Ink's connection to music (and thus creativity) is so strong that a percentage of the profits goes to supporting music education programs in schools. To buy the polish, either click onto the company's website, www.inkit.com, call 888/78-INKIT or stop by one of the locations below .
---
Asphalt at 551 Hayes; Brian Lee at 1840 Union St.; Capri at 2080 Chestnut St.; Captain Jack's at 866 Valencia; Headlines at 838 Market; Martini Mercantile at 1736 Haight; Rabat at 4001 24th St.; and Ozo at 1603 Haight.
---
[ San Francisco | MetroActive Central | Archives ]