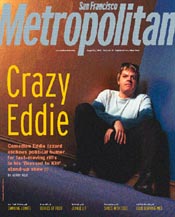 August 24-September 6, 1998
Features: The Izzard Man
An interview with Britain's stand-up comedian Eddie Izzard.
Scene That: Millie gets spiritual at Radiant Light Ministry's healing circle.
Job Interview: An interview with a sushi-making activist.
Tara's Advice: Tara on making babies.



Empowering Inferno: The Burning Man festival faces two possible fates--it could end up as Club Burning Med or as an invitation-only party.
We Love TV: And now, a few words about the fall TV season.
Real Art: MASS if you're CRITICAL.
Lingerie for the Lips: Chanel revamps drop-dead red.
Miss Pinkie Shears: The debonair miss gives her fashion advice.
Concrete Runway: Raven Bourassa at Mad Magda's Russian Tea Room.



Flogging the Dummies: Neil LaBute's second film, Your Friends and Neighbors, is even uglier than his first.
Film Picks: Brief reviews of Gadjo Dilo, Safe Men and Touch Of Evil.



Blended Genre: Eighty Mile Beach members Beth Custer and Christian Jones pride themselves on being a band without a specific niche.
Club Guide: A week's worth of hot night-clubbing.



Imaginative Fare: Oodles of surprises and food at Oodles.
Smoke 'Em If You've Got 'Em: Places in SF where you can still smoke.



The Language of Addiction: Junkie literature is about heroin first, characters later.
Book Picks: Brief reviews of Preacher's Lake and Taming It Down.



Please don't forget to write! The Metropolitan welcomes letters. Like any great work of art, they should be originals -- not copies of letters sent elsewhere. Include address and daytime phone (for verification purposes only). Letters may be edited for length and clarity or to correct factual inaccuracies known to us. Postal: Metropolitan Letters, 1776-A 18th St., San Francisco, CA 94107. Fax: 415/487-9094. Email: [email protected]. Emailers, please include name, city of residence and phone number. Letters printed will list email address unless otherwise specified. Letters to the editor are not currently published in the online version of this paper.