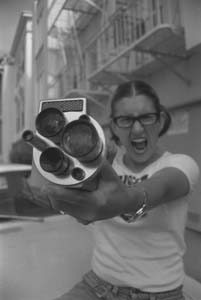 Shooting to Kill? MadCat Film Fest creator Ariella Ben-Dov at her vaginocentric best.

Photograph by Farika





Women on the Verge

The MadCat Women's Film Festival isn't only for women; just ask founder Ariella Ben-Dov

By Tracie Broom

With free barbecue, mean cocktails, optional pool tourneys and plenty of beflowered outdoor seating, El Rio's once-monthly May to November Outdoor Cinema starts rocking at 8:30pm every Tuesday in September with the MadCat Women's Film Festival. Founded three years ago by curator/filmmaker Ariella Ben-Dov (a smart dish herself), MadCat shows women's work from around this great, grand world of ours. If you tend to poo-poo superfem vaginocentric diatribes, fear not the MadCat festival--it's primarily about high-quality experimental film shorts by lady-flavored makers. Treats include early work by Sally Potter (director of Orlando), animated shorts and a 1983 postmodern sci-fi feature set 10 years after the second American Revolution.

Where do you find material for the festival?

I put ads in film magazines, but I'm finding as the years go on that the Web is a very incredible resource. We couldn't get entries from Slovenia without it.

What finds are you particularly proud of?

The Fruit of Thy Womb by Barbara Albert is from Austria. It's a narrative about a little girl discovering her sexuality, and it's beautifully shot, as all of the films at MadCat are. They challenge you through the use of sound and image. The Whole History of That by Jenny Perlin is about the filmmaker's search for her great-grandmother. She's interviewing without sync sound, so she tells a very funny story about a search which can never be completed.

I hear you have an early work by Sally Potter.

Yeah! We're showing a film by Sally Potter from the '80s--before Orlando, before Hollywood got her--The London Story. It's basically a takeoff on the spy genre as well as a musical comedy. What we also try to do at MadCat is give a backdrop not only for older work by now well-known filmmakers, but also for past works by lesser-known makers. There's a beautiful one called Take Off, from the '70s, starring a professional stripper. She's stripping very repetitiously, and once she's finally naked, she starts taking off other things; it's a surprising end. Also, we have Born in Flames on Sept. 28, a film from '83 by Lizzie Borden.

It's not the same Lizzie Borden who chopped up half of New England?

Different Lizzie Borden. She claims that is her name! Born in Flames actually opened in 1983 in San Francisco at the York Theater. I think that Born in Flames goes with the sort of rustic feel of El Rio. It's a lot about taking over the airwaves, and TV, and how to infiltrate the powers that be.

What makes MadCat different from lesbian festivals, for example?

We carry films that many other festivals don't carry because they might not fit into any one theme. A lot of the queer makers whom we carry might not be doing identity-politics films. With MadCat what I've tried to do is really incorporate the more experimental films. You're not going to be a passive viewer at MadCat. I'm hoping that the way I curate it will both challenge the scholar and leave the audience satisfied. I think that a big challenge is getting over the misconception that MadCat is for and by women--it's definitely by women, but really, the subjects that these women are dealing with are more universal.

What's the dream?

The dream is to go on tour! To colleges and small venues around the country. That's the dream. If I could go to universities, they would have a budget, and I could charge them to pay back at least my expenses. They bring in bands for a few hundred dollars--they can bring me in to show some films. Oh, I would love to do that.

Why'd you start this in the first place?

I was going to all of these experimental programs, and it really saddened me to see that a lot of what was being shown was causing the audience to come away with the idea that experimental film is bad. For me, experimental film is about making very specific choices about sound and image and lighting, as opposed to being about glorifying mistakes. There are definitely other venues that show quality work in the Bay Area, but there are none that program only women's work so thematically, and from an international standpoint.

And your themes?

I create an evening of films not about one issue, but about a common string which seems to permeate a number of very different films. The themes come out of the films that I receive, so what I do when I'm watching the films is try to think about the broader themes that these people are dealing with. We put titles to the programs this year. We're starting Sept. 7 with Lost in Translation, a series of films about cultural identity, communication, language. On Sept. 14 we have Interior Worlds, films about the inner workings of the alienated and the evolution of the young and naive. Some of them are very light and funny. Sept. 21 is Dark Mirrors, a lot of dark, sci-fi, quirky fairy tale-type films.

Does The Red Shoes have anything to do with the feature film?

It's actually an animated short of the original fairy tale, eight minutes long. As adults looking at it, it's very interesting because you think, "This is a fairy tale that people read before they went to bed, and this little girl gets her feet chopped off?"

Last year MadCat screened at the Roxie. El Rio is a new location.

It's not a theater and it can't hold as many people--it's makeshift. That's the beauty of it.

And the free barbecue?

The free barbecue! Yeah, it's this deal we have--it's part of the Outdoor Cinema thing, for meat-eaters and non meat-eaters alike.

And if you want to wander off to get a drink during a film ...

Yeah, that's a great thing, because some of these films aren't as palatable. El Rio offers the chance to come and socialize while viewing things that you wouldn't normally see .
---
Contact info: MadCat Women's Film Festival, 937 Fell St., SF 94117; 415.436.9523.
---
[ San Francisco | MetroActive Central | Archives ]